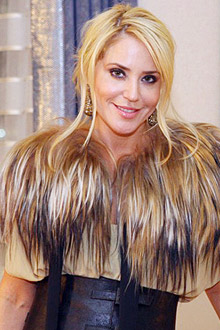 Designer, author and artist Stephanie Hirsch has an exciting and busy career. From creating the Inca lifestyle brand and being the designer behind Soul Cycle's apparel line to her chic canvas masterpieces and more, Stephanie has lots to share with Style Solutions. Beads..books..surfing..read on!
S: How did you get into the art world?
SH: Prior to being an artist, I was a fashion designer. I'd sold my business and I was going through a rough time in my life, and I've always used little mantras and sayings to get me through life. I needed to get out of this funk that I was in, and the only way for me to set myself free was to creatively pour these mantras onto a canvas and be able to see them on a daily basis.
S: How do you describe your art?
SH: I think they're like pop art since they interpret iconic images and sayings. I believe my work speaks about a time and place in history.
S: Your work was featured in the Mercedes-Benz VIP Star Lounge during NYFW!
SH: Mercedes-Benz is always looking to do something original in their VIP Star Lounge. A friend of mine is their publicist and introduced my work to them, and they loved it and wanted to feature a "Keep Calm and Carry On" piece of art, and then do something exclusive. So, I came up with the idea of putting the phrases and images onto pillows, which is another form of artwork.
S: I love your use of beads–why this material?
SH: When I designed swim and resort-wear, I always loved beading and embroidery. It was my medium in terms of clothing. I feel like it has a lot of depth and soul, and it's really the technique that I know and have used for expressing my creativity in my adult life.
S: Speaking of Soul, you're the designer behind the Soul Cycle apparel line!
SH: Yes! Soul Cycle came to me right after I sold Inca and asked me if I'd consider helping them launch a fitness line. Doing swimwear, I understood the fabrics and techniques, so it was great. I tried to basically take ready-to-wear and make it fitness-wear. It doesn't have to just be super athletic looking–it can still be fun and stylish.
S: Tell me about your book, Mother Nurture: Life Lessons from the Mothers of America's Best and Brightest.
SH: It came out in 2008, 2 years after I had my first son. There's this very type A, driven side to me, and when I had my son I had this idea that I had to be the best mother. At the time, I had my company and was stressed out. I was freaking out and wanted to know how mothers like Steven Spielberg's [Leah Adler] raised such an incredible son. So I came up with the idea to interview the mothers of highly successful people from different fields to see what types of values and ideas they instilled in their children. It was a selfish endeavor because I wanted to learn how to give my son the best, but then it turned into this gift that I gave to so many other mothers who had the same questions.
S: What do you enjoy doing with your kids during the summer in the Hamptons?
SH: During the day, I try to utilize outdoor activities. I love taking them to the beach in the bay near my home, which is calm and they can run around. My older son and I love surfing together, and I also like to waterski and go paddle boarding. It's all about the kids until after 7pm–I love going to house parties at night. It's super fun!