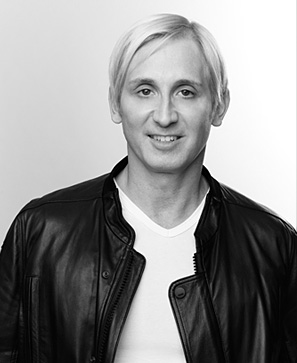 CFDA member and red-carpet staple designer, David Meister, knows anything and everything about finding the perfect wedding dress. From his backstory and hints about his Resort 2012 collection to a total breakdown of staying bridal chic, Meister tells his story to Style Solutions.
S: Let's chat about life before starting your own line.
D: I went to The University of Cincinnati College of Design, Art, Architecture and Planning. It was a 5 year program, and after my 1st year I got to do a 3 month internship in New York. By the time I graduated, I interned at brands like Ellen Tracy and Danskin, where my block in jersey clothing started.
S: What are some of your favorite childhood shows that inspire your designs?
D: I was always into clothing, but I didn't realize someone did that for a living. When I was a kid, I turned on Sonny and Cher–I was like, she is so cool. I watched the credits once and realized someone actually did do that. I also liked "That Girl" with Marlo Thomas, and Mary Tyler Moore had a very cool look in her day.
S: Where are women going when wearing your day dresses?
D: We dress women from 20-70, but our core customer is 34-50. She's wearing my day dresses to the office, luncheons, dinner, and sometimes to a casual cocktail party. You can also wear them to a day wedding. They're usually simple shapes with great color and fit. Depending on how you accessorize them, you can really do a lot!
S: What are some tips for finding the perfect wedding dress?
D: A lot of brides have this image in their mind of what they want their dress to look like, but try on a lot of different looks and take in account your body. Most women want a strapless ball gown when they get married, but I think you should try something that's a little different because it looks fresher and younger. While you want to stand out and look unique and special, you also don't want to go crazy trendy because you'll have those pictures for the rest of your life. The dress should be beautiful and have a sense of timelessness. I also think it's beautiful if a bride wears a slight blush color like a sash at the waist–try a touch of color!
S: Flowers are an important element in weddings. What are some of your favorite flowers?
D: I'm a big white flower person, particularly tulips and orchids, and I also love peonies. I always believe that less is more, so keep it simple and pick just 1 or 2 favorites.
S: What are you currently working on?
D: Resort 2012! We're going to see a lot of nude and natural colors. There will be shine, but not as glitzy. I also love navy and white. Women who wear our dresses love color, so there's going to be a mix.
S: What's different about the fashion biz right now?
D: People are now wearing gowns as cocktail dresses which is cool–we haven't seen that in a while!