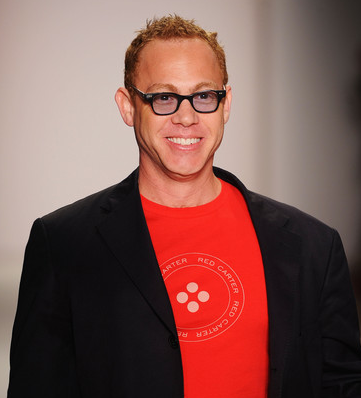 Swimwear designer, Red Carter, knows how to make women feel their best, especially during swimsuit season. He can be found scouring scarf bins near 24th and 6th Ave in NYC and is constantly influenced by his discoveries. From his design process and working alongside Oscar de la Renta to picking the "right" swimsuit, Red gives Style Solutions his story.
S: What's the backstory behind Red Carter swimwear?
R: I started the Red Carter label 9 years ago out of my apartment in Miami Beach; it was me, a credit card and a dream. The first season I designed the collection, I researched vintage photographs of people's vacations in Miami Beach from years gone by. It hit me that my goal was to try to be a part of the pictures I was seeing, so I started creating these souvenir swim suits of their trip. I first made the collection so tiny that only models on the beach (who helped promote the brand) could wear them. Today, I accommodate more people and reach a broader audience.
S: Tell me about your Red Carter and Red Carter GLAM collections.
R: The colors, fabrics and silhouettes are all chosen specifically for the brand, but I do like to separate the themes to address the specific customer. Right now, moving to NYC, I've found myself influenced by the city streets and the architecture of the buildings. This season, we have a new direction for the label; we are separating Red Carter into the red label and the black label as 2 separate customer profiles. The Black Label will be the usual sexy fit with bikinis and one pieces and the red label has been built to address the contemporary American body. This collection will feature some of the signature hits I've done in the past.
S: What was it like working alongside Oscar de la Renta?
R: I worked as a swimwear designer for Authentic Fitness interpreting the Oscar de la Rena look into swimwear and cover-ups. I remember one day I sat in the De la Renta offices waiting to work with him, and in the course of 7 minutes he draped a dress, cut on the bias skirt flowing and neckline ravishing. I was humbled to be in the presence of such greatness.
S: What are some tips for picking the "right" bathing suit?
R: Go to a store that has great customer service with a staff that understands figure flaws. Once you find a favorite fit, stick with it. Prepare yourself for the worst, but personal maintenance can change the mood of the buyer. Don't be afraid of newness in shapes, and know your colors. Always have a favorite black back up swimsuit, and if you're of drinking age, have a martini before you try on anything!
S: Who are some of your celebrity devotees?
R: I am very lucky to have found my wares on many celebrities: Rihanna, Katy Perry, Giselle Bundchen, Heidi Klum, and Nicki Minaj are all wearing the product.
S: What's up and coming for you?
R: I'm currently working on my 2013 collection, which I'll show in Miami on the runway. I cannot wait to have a fresh start this season; all of the bright colors are perfect for swimwear.
(photo credit: Zimbo)