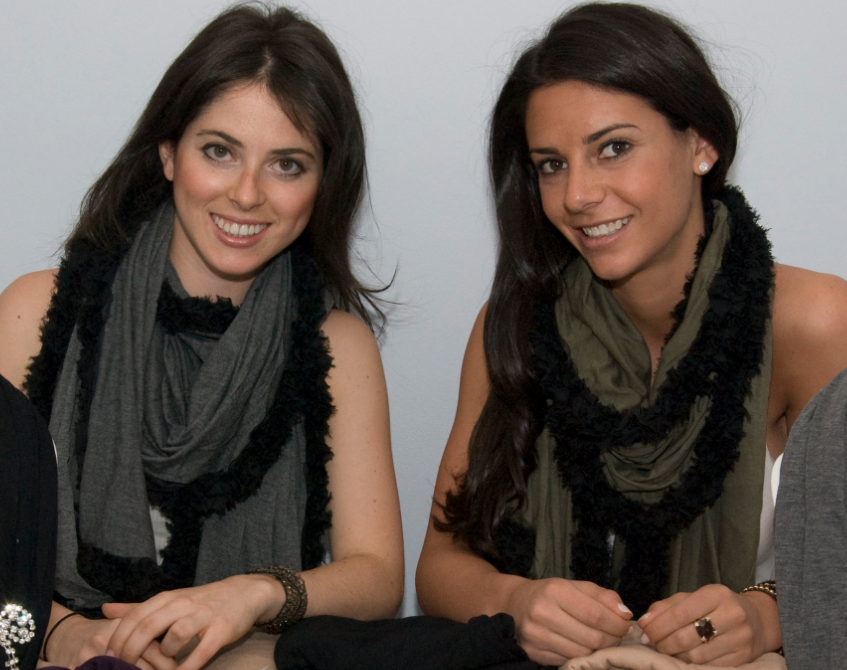 Ashley Cook and Danielle Dankner are owners and designers of the private label, ash&dans, an affordable line of signature embellished jersey pieces. Ever since I was introduced to the brand, I've been absolutely obsessed, wanting to get the inside scoop behind the brand from the owners themselves. From their most popular styles to what's new for fall and their celebrity devotees, here's my interview with Ashley and Danielle.
S: What sets your line of scarves apart from others?
a&d: Our scarves are different from everything else out there. Our jersey-based collection combines classic silhouettes with updated embellishments à la mode. Our scarves can easily take you from day to night and add the perfect pop or color or style to any outfit. We like to be on trend without being overkill, so whether it's neon, lace, tribal, pastels- you name it- we have a scarf that incorporates the latest style in an overlay or trim to help you keep up with the curve without taking you over the top.
S: When did you both decide that making jersey scarves was the way to go?
a&d: We have always loved scarves. Accessorize, accessorize, accessorize is our motto. In college, we had an insane collection of scarves between the two of us- now, of course, we only wear our own brand. We decided to make a line of scarves in 2009 when the recession was really hitting and people were stopping to shop. We knew that if a woman was going to spend money on something, it had to be an item that was versatile and different- hence the scarf. It is an easy-to-wear accessory that updates an outfit without breaking the bank.
S: What are some of your most popular styles?
a&d: Our basics always do well- like the NIK oversized wrap or the NATALIA basic infinity, the one worn by Jessica Alba in this month's InStyle Magazine. Our jersey is so soft and comfy that some of our customers have even admitted to sleeping in them! Our ALEXANDRA ruched chiffon wrap scarf is the newest hot item. People stop us on the street when we're wearing ours to ask where we got our scarf!
S: Tell me about your celebrity [Zoe Saldana, Vanessa Hudgens, Jessica Alba, Leighton Meester, etc] following.
a&d: We love our celebrity a&d fans. These ladies are all young, chic and fashionable. We're hoping for more ash&dans celebrity sighting in 2012.
S: What are we going to see for fall?
a&d: Lots of black, reds, golds and a retro mix of florals and lace. Oversized accessories are in, so you'll definitely see our oversized wraps reinvented, possibly even a shawl. We will of course have our basic silhouettes and bestselling styles, but in the season's freshest colors!