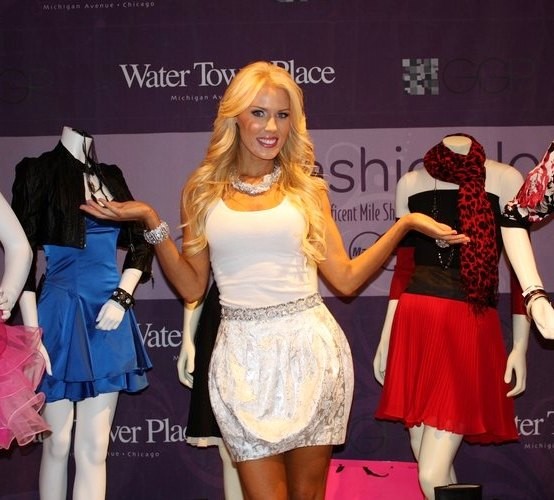 This is part II of my interview with The Real Housewives Of Orange County's, Gretchen Rossi. She continues to give Style Solutions the scoop, and this time about her handbag line, OC style, upcoming goals, and more! Did you catch Gretchen on last night's RHOOC season premiere? If not, do so now!
S: What's the design process like for designing handbags?
G: I'll give you the quickest version I can! A. First it starts with an idea or inspiration. I tend to get a lot of those right before I fall asleep! B. You take that concept or idea and put it to paper. I'm not the best drawer, so lots of times I have Slade draw out my ideas. I also have a great new head designer with my partners in NY; we discuss concepts, silhouettes, styles and overall direction. You always want to try and be on top of the trends; however, I don't always go just by what is trending because sometimes they aren't always the direction I feel the line should go. C. Start to source your materials and embellishments. There are many choices, but I stay focused on the theme and concept behind the line. D. Next is producing samples for review and making any necessary changes or additions. E. Production! (now remember, that is the very quick version of what takes place!)
S: Wow! How does your style differentiate from the other Housewives?
G: My personal style is very girly girl with lots of bling and fun accessories; however, I think what sets me apart from the others style is that I love to have different looks and to be in-theme! One day my outfit is the typical 50's and 60's housewife look (conservative yet with a little sex appeal) and then the next day I can be a biker chick jumping on my Harley!
S: What are some of your favorite bathing suit lines?
G: Oh Gosh, I really only have one "go to" swim suit line that I just adore and that is Beach Bunny! It is my favorite and I wear their suits all the time! They make you look and feel so sexy! It's funny I am constantly getting asked to add swimwear to my collection, so who knows maybe that is what will be next for me!
S: Do you have a 2012 new year resolution?
G: I have many! I love empowering women, so I hope to continue to do so in 2012 by being an inspiration to all women to go after their dreams! I've always wanted to do something within the fashion and beauty spaces and now I am doing just that! Obviously my resolution is to continue to expand and grow my companies and build a long lasting lifestyle brand that is affordable for the everyday woman!
S: What do you want to accomplish in the next year?
G: Of course I have so many goals for my Gretchen Christine Brand, but if I had to choose one thing, I would say to perform live again! It was exhilarating and I felt like I was where I was meant to be when I was on that stage in Vegas!
A big thanks to Gretchen! Style Solutions can't wait to continue following her success!