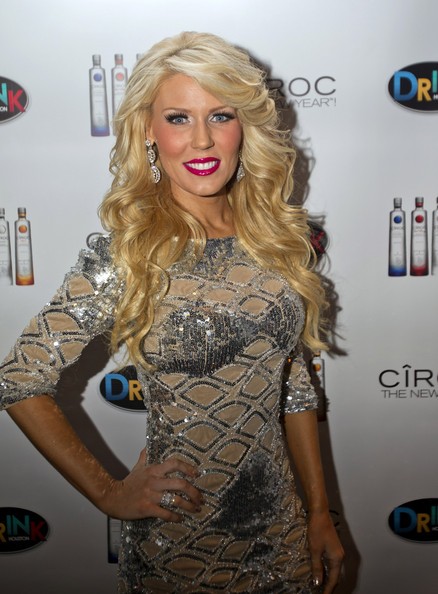 This is part I of my interview with The Real Housewives Of Orange County's, Gretchen Rossi. From her clothing and beauty lines and contributions to The Breast Cancer Charities of America to her wardrobe must-haves, Gretchen Rossi has a fun-filled and interesting story to tell Style Solutions. The new season of RHOOC starts tonight, so be sure to check it out! Stay tuned for more of Gretchen's scoop tomorrow.
S: Real housewife, designer, entrepreneur; how do you do it?
G: Tell me about it! Some days it can be overwhelming, but I'm getting to do what I love within the fashion and beauty spaces. I have a lot of support from my family and partner Slade. Also, The the Gretchen Christine Brand has merged with a large partner out of NY to bring the line to the next level! We plan to expand the line to all things that one could find in their closet. The next collection launching is the "Pink Croc Collection". I was honored to do an ad campaign for The Breast Cancer Charities of America and created a Pink Handbag for that Campaign; it was so well receive that I decided to create a whole Pink Collection. I love pink, and what better way to give back than to create pieces that every girl will love to have in her closet as well as donate a percentage of proceeds back to a great cause like BCCA.
S: Speaking of the Gretchen Christine Brand, tell me about your cosmetic line!
G: I had received many emails, Facebook messages and tweets about my beauty routines and makeup I wore. I knew that the market was missing high quality makeup at an affordable price, so I decided to create a line for the everyday woman; not to mention that I just love makeup and to be able to create new colors and ideas every season is exhilarating! I've always said find something you love to do and never work another day in your life!
S: What are some of your favorite pieces in your closet?
G: Gosh I have so many, it's hard to choose! I love dresses; from sundresses, to long comfy dresses, to cocktail, to long formal ones. I also love my Valentino blinged bow shoes as they are a classic and can go with almost anything! I also love all of my Christian Louboutin shoes! I have a favorite Roberto Cavalli coat that I can dress up or dress down and I wear all the time. I absolutely love hats, so my closet is full of hats as well! Oh crud, I just can't decide on a few favorite pieces! I love fashion, so I love it all!!
S: The Real Housewives of OC's new season starts tonight. What are you excited about?
G: I'm most excited for the viewers to see me entertaining. Slade and I produce and host a night at the improve where we both do have some stage time in the comedy space, which I love as well. Slade and I really are just big dorks and make fun of ourselves all the time. I also get the opportunity to show the viewers some of my music career and cameras followed me writing and singing in the studio for my new song "Unbreakable" as well as followed my huge and exciting opportunity to perform with the Pussycat Dolls Live on my first Vegas Stage this year. I think it will be fun for the fans to see me exploring the tough world of entertainment and the trials and tribulations I encountered along the way.