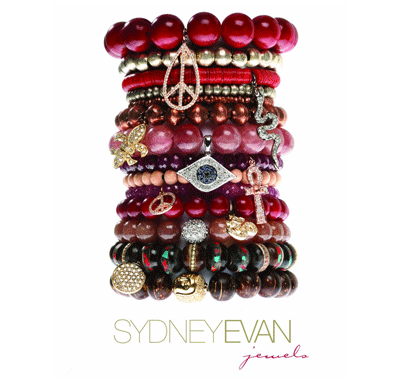 This is part II of my interview with Rosanne Karmes. The perfect jewelry destination for Valentines Day, Rosanne's jewelry will bring you to a sweet escape. From gift recommendations, her love for black stones, and upcoming projects, Rosanne continues to tell Style Solutions her story.
S: Valentine's Day isn't too far away. Any gift recommendations?
R: There is nothing sweeter then my love collection. It says it all and would make a truly personal and meaningful gift.
S: Black stones are huge right now. What's your take on them?
R: I like them a lot if they are done in a handsome way. I personally like black stones mixed with black gold or rose gold.
S: Any plans for a less expensive line?
R: I have been working on a new all gold collection called SHY by Sydney Evan, which we will be launching soon! It takes the classic Sydney Evan words to a whole new level and will retail from about $100-$400. I really wanted to make gold affordable for everyone and I think that this collection does just that.
S: One of your collections is "Sweet Things". What are some of your favorite sweets?
R: I love sweet indulgences. My favorites are See's Candies Dark Chocolate Bordeaux, Almond Rocha, plain M&M's and peanut butter or vanilla frozen yogurt with chocolate sprinkles. Delicious!
S: Where can my readers purchase your jewelry?
R: The Sydney Evan Collection is available internationally at department stores and specialty boutiques globally including Bergdorf Goodman, Neiman Marcus, Fred Segal, Intermix, Holt Renfrew, Colette in Paris, Harrods and online at ylang23.com. To find a store in your area, you can visit www.SydneyEvan.com
S: What does the future hold for Sydney Evans this year?
R: This year, I am celebrating the 10th anniversary of Sydney Evan! I am so proud of everything that I have accomplished over the last decade and am very excited about my new collections and designs on the horizon. With the launch of SHY by Sydney Evan, you'll be seeing my exploration into new colors, characters, shapes, and of course the expansion of the "love" collection.
A big thanks to Rosanne!
We can't wait to see her new collection and other future endeavors.