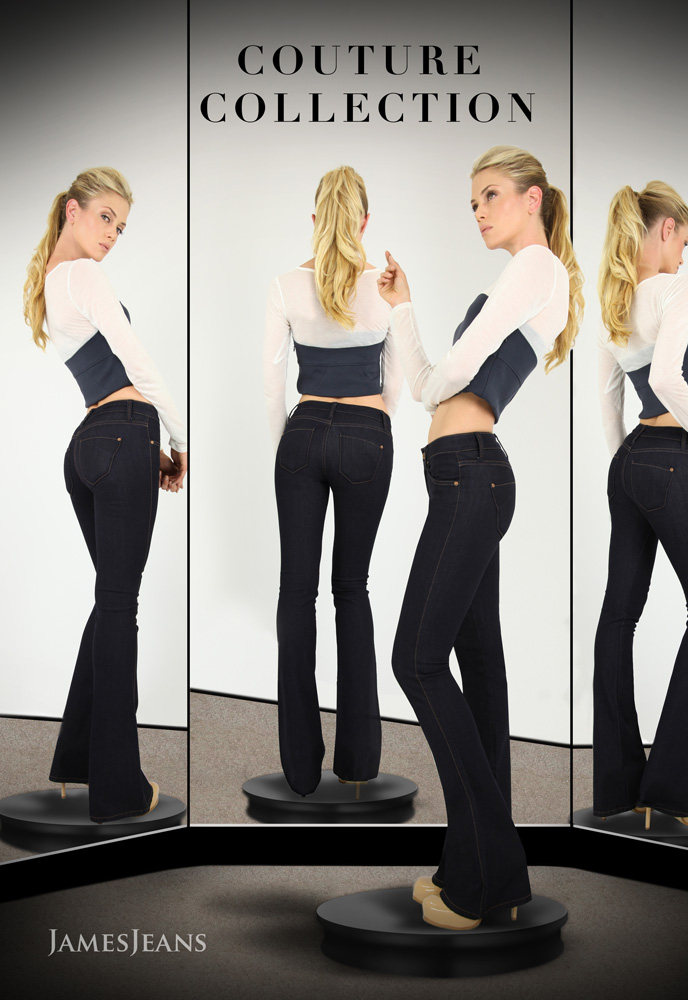 Finding the perfect pair of jeans is a challenge that most women face. Our expectations seem to always be high, looking for a pair that's as fitting, slenderizing and "magical" as the ones from The Sisterhood Of The Traveling Pants. I've always been most comfortable in jeggings because I never felt completely satisfied with the blue jeans that I own, even those that are well-known brands. However, I have now been introduced to a pair that has become a go-to staple in my closet.
Popular jean brand, James Jeans, has recently launched its Couture Collection for Spring 2012. This collection is the total problem-solver for those seeking a new and well-rounded pair of jeans.
Coming in three of the most classic and popular silhouettes (boot, straight, and skinny), founder Seun Lim gives them a fabulous twist. Some key features of the jeans include vortex waist contouring, patented inner yoke and pocket lining, booster hip padding, and my favorite, suction thigh wrapping. It is truly the miracle fit. I also love how incredibly soft they are.
I own the Couture Skinny 1210 Vesper jean and fashioned it for the first time last week to go to lunch at Freds at Barneys (click here); I have never received more complements on a pair of jeans before. They are simple yet chic for daytime, but they can turn ultra glamorous with the help of some funky shoes, sequin galore, and chunky jewels. I went out for dinner that same night and quickly transformed my look from day to night with a pair of platform pumps, a sequin blouse, and an oversized cocktail ring.
Not only am I a huge fan of James Jeans, but celebs are too like Ashlee Simpson and Olivia Wilde.
Check out the James Jeans website to find the perfect pair of Couture jeans for you.
Believe me, you don't want to miss out.
with style,
S