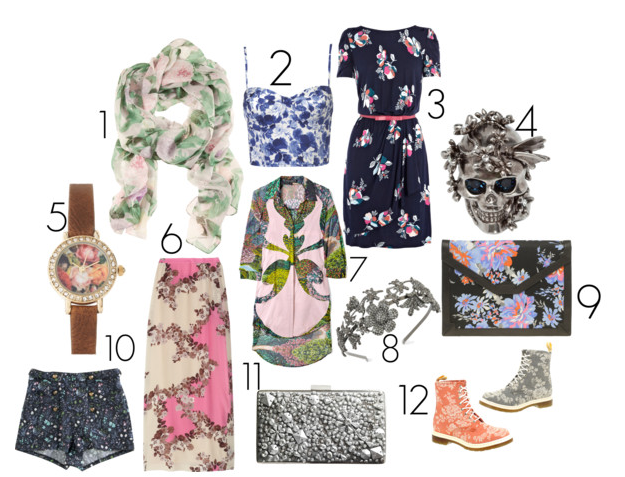 1. H&M $8, 2. Topshop $60, 3. Oasis $35, 4. Alexander McQueen $275, 5. ASOS $36, 6. Paul & Joe $350 7. Stolen Girlfriends Club $396, 8. BCBG $68, 9. ASOS $81, 10. Opening Ceremony $278, 11. Nicole Miller $325, 12. Dr. Martens $50
Women fashioning men's clothes has been a major trend, thanks to brands like A.P.C and Rag & Bone. It's been all about boyfriend blazers, boyfriend jeans, and military-inspired ensembles. But with 2012 unveiling the newest trends, it seems as though there's going to be a return to a long-gone glamorous femininity with some fabulous flower power.
There won't be any borrowing from the boys this season, darlings. Instead, we'll be wearing chic pastels with floral prints that are tropical-inspired, ethnic-inspired, art-inspired, and more. Although our silhouettes might be a bit more girly than usual, we can still fashion our undeniable edge by creating outfits that combine what's street-chic and our own personal style.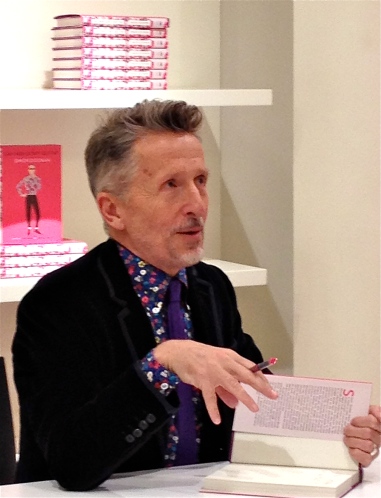 About two weekends ago, I was browsing the home floor of Barneys with my mom. We came across Simon Doonan signing his new book Gay Men Don't Get Fat at his personal appearance. I was rushing out and didn't have time to chat, but I did manage to get a shot of him on my iPhone in a fabulous multicolored floral button-down. He aced the trend while still making it "him" with a dark yet colorful tie and jacket. Like I always say, it's all about looking hard and soft at the same time. Take Simon's floral look as inspiration for a possible upcoming investment.
Above is my favorite mix of high and low floral galore. Whether you start with a clothing item, a shoe, or accessory, it's always fun to experiment and add trendy pieces to your closet.
with style,
S