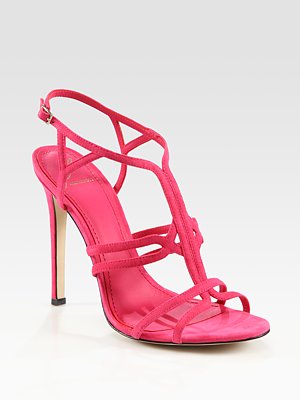 Pink Lorrina Suede High-Heel Sandal
That's right fashionistas, ankle straps are in! Who said you can't wear a stylish strappy sandal once the weather turns cold? It might not be my go-to shoe for daytime, but it certainly will be an option for nighttime. I always love to quote Rachel Zoe with her desire for lots of options because she is so right. When putting an outfit together, it's doubtful that you'll wear the first shoe you pick out in your closet–you probably try on a couple of pairs before making that final decision.
Whenever I wear a Brian Atwood shoe, it always seems to make my outfit look just right. The sexiness, colors, aesthetic, and fierceness of Atwood's shoes make him one of the most beloved shoe designers in the fashion biz.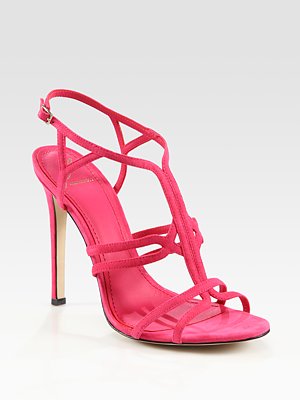 Brian Atwood
Brian Atwood's shoes tend to be pricey, so he came out with a "less" expensive line (unfortunately still rather expensive, but better) called B Brian Atwood. When I was at Saks last week, I came across a pair of super chic B Brian Atwood 'Lorrina Suede High-Heel [strappy] Sandals' that made me go bananas.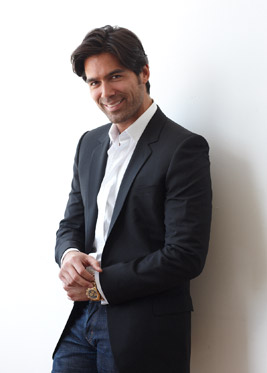 Orange Lorrina Suede High-Heel Sandal
Coming in a variety of colors such as pink, orange, purple, and black, these sandals are sophisticated yet sexy and are the perfect pop of color. Brights are completely in this season, so I'm thinking of going with the pink or orange since they will look great with anything from a sparkly dresses to skinny pants, and even for cruise, which is scarily not too far away.
I'm so ready to slip my feet into these B's!
with style,
S