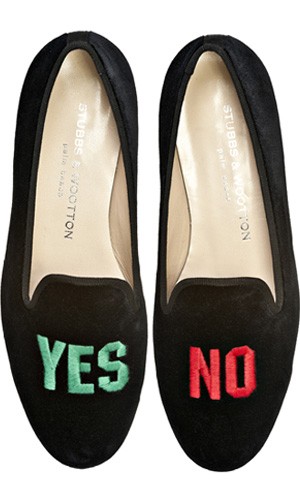 One day it's snowing, another day it's 70 degrees; and to top it all off, we're in November. Aren't we supposed to be in heavy winter jackets, snow boots, cute earmuffs, and more? Instead, while New Yorkers are fashioning light jackets and anything but a snow boot, stores around the city (like Ralph Lauren, the King of Madison Ave displays) are already putting up their Christmas windows. It's shocking that it's getting to be that time of year, especially since I feel like we're more in spring/summer than fall/winter.
Until it's time to get out my boots again, I'm enjoying wearing my Stubbs & Wootton flats for the time being. Yes they are flats. No this does not mean they are a replacement for a fab pair of heels. I own a handful of Stubbs, and I know to purchase them at the end-of-the-season sale in August in Southampton. My Stubbs range from skulls, stars, and trees to solid colors.
For the past month, I've been passing the Stubbs & Wootton store and have been eyeing this one pair every single day. They are the Yes/No black velvet slippers, and they are honestly calling my name. First off, velvet is extremely popular right now, and I love a good texture shoe. Secondly, the yes/no looks and just is so cool. The colors -red and green- are bold and fun, and they go into the holiday season without looking too Christmasy. And hey, instead of responding to yes or no questions, all I need to do is tap a foot like Dorthy from The Wizard of Oz style.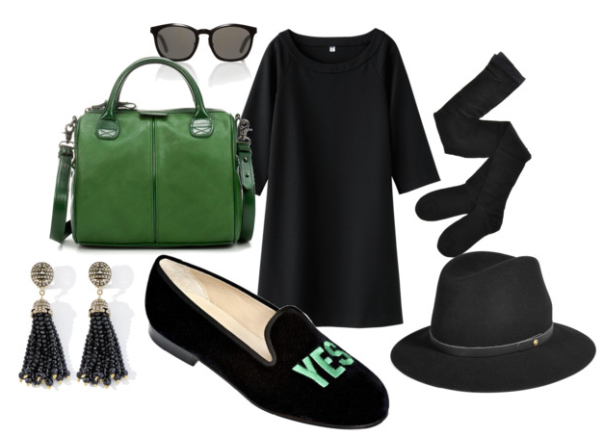 I hate to purchase Stubbs if they're not on sale, but this is one pair that I can't pass up. Every month, I save up for a fashionable treat, so I decided to purchase this pair. However, they are now on back order and they won't arrive on my doorstep until December 1st–counting down the days, literally. Until then, all I can do is dream about what I'll pair these shoes with, although I'm sure I'll be wearing them with everything for the first few weeks of ownership. I do, though, have a certain look in mind.
A LBD, black tights, a black fedora, black and crystal tassel earrings, a green bowling bag to bring out the green from the YES shoe, and black rectangular shades. Simple, elegant, wearable, and suitable for many occasions.
I'm heading up to Ithaca this afternoon for a few days–time to clear my mind, enjoy some relaxation, and possibly whip out a [faux] fur jacket and snow boots.
yes or no? with style,
S