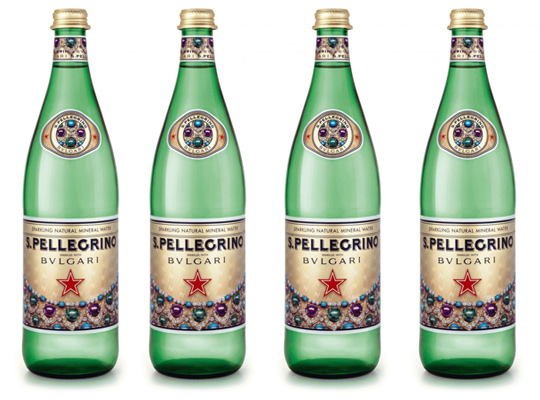 I am obsessed with sparkling water. I drink approximately two large bottles a day, yet I never seem to get sick of it be it morning, noon, or night. I add a little flavor with the help of either a slice of orange or lemon, and sometimes I even add a splash of cranberry juice.
Through the years, I have seen water companies such as Evian collaborate with many designers. For example, Christian Lacroix. Now San Pellegrino, my favorite sparkling water brand, has marked its presence in the fashion biz, also collaborating with fashion houses.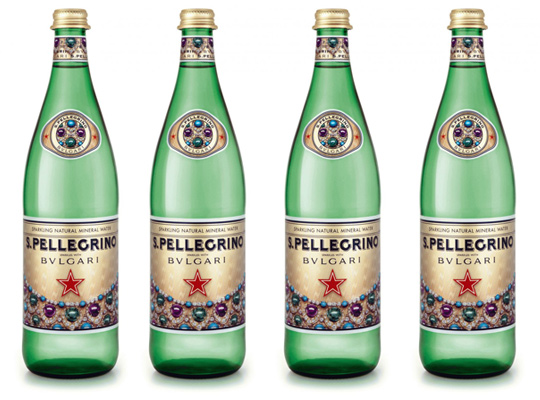 In 2010, San Pellegrino collaborated with Italian fashion house Missoni in which the label featured the Missoni branding and the bottle came in a special sleeve designed by the brand. It was super chic, and I still see some bottles every now and then.
The newest San Pellegrino collaboration is with the iconic jewelry, watch, and fashion accessory brand, Bulgari. The limited edition bottles are absolutely stunning, celebrating the jewelry brand's 125th anniversary. The bottles will be served at all anniversary events around the world, and of course at restaurants and clubs.
I first spotted the Bulgari limited edition bottles while dining at a small French cafe in Philadelphia last weekend. I was so excited that all I could do was take tons of pictures of the bottle on my blackberry. The waitress noticed my excitement and even asked if I wanted to take the bottle home (I thought that would be a bit too embarrassing). I saw the bottles once again last night while dining at Mercer Kitchen in Soho.
The stunning Bulgari necklace on the San Pellegrino bottle made me want to browse the Bulgari website late last night, and admire the exquisite jewels that are total eye candy. Below are some of my favorite pieces from the Bulgari Mediterranean Eden collection. #Priceless.