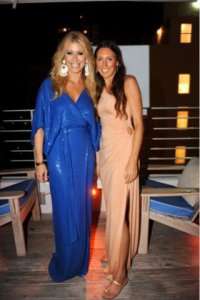 Jill Martin & Dana Ravich
From talking fashion on TV, styling the best-of-the-best, to looking absolutely fabulous themselves, you know that Jill Martin (Fashion Contributor on TODAY and a reporter for the NY KNICKS) and Dana Ravich (fashion stylist and author) are the perfect fashionistas to go to for fashion guidance. Their first book, Fashion For Dummies, and their new book, I Have Nothing To Wear!, are the perfect sources when in a fashion crisis–think fashion 911! This is Part I of my interview with Jill and Dana-read and learn darlings, because their guidance is priceless.
S: What's the back-story behind the Jill Martin & Dana Ravich collaboration?
J&D: We met in Miami and started doing closet cleanses, or "rounds" as we like to call them, before we ever started working together. After we both moved to NY and were working in fashion, we were approached to write Fashion For Dummies. We got great responses from that book, and we love the idea of helping women to look and feel their best—like a "10"!
S: Your new book, I Don't Know What To Wear, is a 12-step program. Do you need to complete all of the steps in order to be successful?
J&D: Definitely. While the book is largely about cleaning out your closet and decluttering, it's also about finding your style, knowing what basics you need, shopping smartly, and always knowing what to wear on any occasion; so the process will enable and empower you. Although part of it is about letting go of what you don't wear, we hope that the rest of the book is fun and helpful!
S: How did the writing process differ between Fashion For Dummies and I Have Nothing To Wear!
J&D: Fashion For Dummies was filled with tons of information, so it required more research and was denser with information. I Have Nothing To Wear! just flowed naturally as it's a process that we both practice in our lives and have been doing for friends and clients for years.
S: Does being fashion personalities create a common bond between you?
J&D: We both love fashion, but we don't have the same style, which makes it most fun. We each express our personality through our clothing and appreciate each other's style. We definitely agree about what works and what doesn't!
S: What's a great day-to-night outfit?
J&D: The perfect day-to-night outfit is comprised of the basics you should always have in your closet. For day, start with a little black dress (one that flatters your figure and expresses your style), layer it with a fitted black blazer, add pumps, a chic work tote or everyday bag, and simple jewelry. Dress it up by taking off the blazer, switch the pumps to metallic strappy heels, pare down to a clutch, and add a little pop with a piece of statement jewelry: you'll be ready for anything your date has planned for a night on the town!
Stay tuned for Part II tomorrow, where Jill and Dana reveal year-round must-haves, and what's next in their futures!