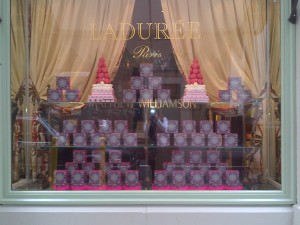 If there is something that I love just as much as fashion, it's sweets. I have a ginormous sweet tooth that doesn't seem to ever go away, and it is apparent that I have gained this from the older generations in my family (thanks mom and grandpa!). My favorite sweet this season? Macarons.
Ever since I was a little girl, I'd go to Paris and get delicious macarons at Laduree. I don't know what I loved more: the cookies themselves, or the adorable mint green boxes that they came in. Once I'd get back to the states, I would have a total craving for macarons and be on a treasure hunt to find one just as good, yet none were as delicious as Laduree's–not even Francois Payard's.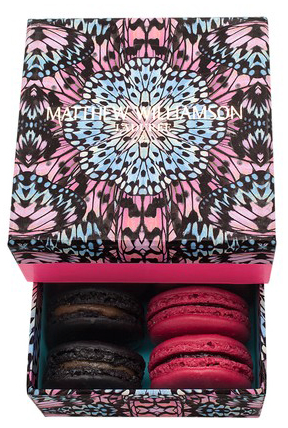 My macaron hunt is finally over as Laduree has come to New York City, and better yet, right in my neighborhood. Since the day Laduree opened, lines have been rapped around Madison Avenue consisting of Laduree devotees, and then those who know nothing about the legendary cookies from France but want to try them based on popular talk. My favorite flavors are blackberry, raspberry, and of course chocolate.
As I was walking home this afternoon, I saw a new addition to the Laduree store: Matthew Williamson cookie boxes! I was so thrilled to see these colorful boxes placed in the windows as fashion and sweets are my favorite combo. I had to walk into the store and see what this was all about. I learned that Williamson collaborated with Laduree to design limited edition macaron boxes for Fashion Week all around the globe in his signature kaleidoscopic graphic style- so chic. The boxes, which contain eight macarons, are the perfect gift.
I just can't decide what I love more: Matthew Williamson designing clothes, or designing macaron boxes for Laduree.