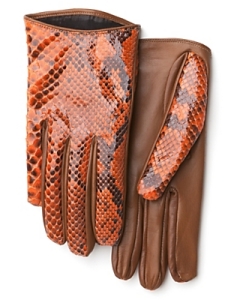 Growing up in a family with some major shopaholics, I've learned how to get wardrobe essentials before worrying that everything will be gone, gone, gone. What's the Style Solution? It's called pre-ordering, darlings. There is nothing chic about chasing your favorite seasonal must-have at the height of the season when everyone else is vying for the same item; believe me–I'm still searching for those skinny black-forest J Brand corduroys, and I've been going to Barneys twice a week waiting for them to arrive. Luckily I have the most amazing salesperson, Randal, (but if he's not available Anton is second best) who gets quite amused by my corduroy hunt.
Anyways, case proven, it's all about pre-ording. Not only is it necessary to pre-order clothes, but it's also important to pre-order some of those wintery accessories. I am a total believer in accessories: they make an outfit. If it came down to it, I would rather have a closet full of accessories than a closet full of clothes because accessories are the icing on top of the cake.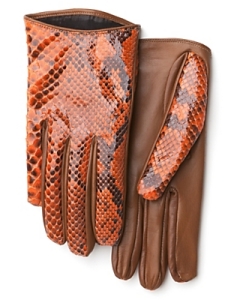 Of course there's the usual wanting of the hottest bag and shoe, but what about those amazing scarves, hats, and of course gloves! I cannot go a fall/winter season without a to-die-for pair of gloves. I'm loving the Imoni gloves I spotted on Intermixonline.com. They are python-chic, which I'm so into right now, but whatever you do please, please, please don't wear them with the snakeskin Nine West Mary Jane's I blogged about yesterday: lets try to avoid Joan Rivers and her Fashion Police.
The gloves come in three dashing colors that make me want to slip my hands into them A.S.A.P. Les options? Brown, green, and orange. They are wonderfully luxe, supple, soft, and so fun and colorful that they will bring your soon-to-be darker outfits into some light. My favorite? The orange. Place your pre-order now fashionistas, or you'll be chasing these g-lovely gloves down.