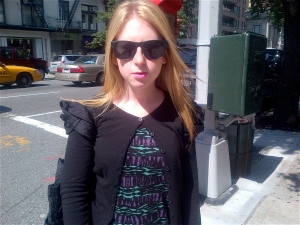 If you think charity event goodie bags are good, wait until you see a Fashion Week goodie bag. At some shows during New York Fashion Week, designers will give out goodie bags placed at each seat for attending their show. For instance, Charlotte Ronson had a great goodie bag filled with makeup from her new line at Sephora and a free 3 day membership to Equinox sports club. The goodie bag that's my favorite, though, is the one from the Teen Vogue Declare Your Denim fashion show.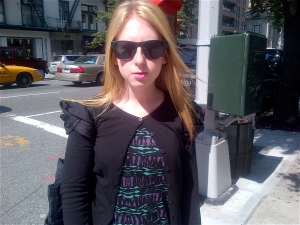 Let me just say, there was quite some variety. A crunch candy bar, a Boy Meets Girl 10% off card, an Aldo gift card, Paul Frank underwear, Marc Jacobs perfume samples, Jessica Simpson bedazzled earphones, a Bebe keychain, the newest Teen Vogue issue, a Bebe catalogue, and my favorite, the new Maybeline Baby Lips chapstick.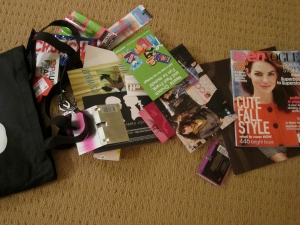 I am absolutely obsessed with Maybeline's Baby Lips. Coming in four colors, this chap stick should be on your must-have list for fall, and actually every season. I'm a total M.A.C lipstick girl, but I'm also now a huge fan of Baby Lips due to the colors, smoothness, and packaging. I got two colors in my goodie bag: pink and clear. The pink is oh-so-bright and fun, giving all of my dark outfits a great pop of color. Although it looks like a spring color, it looks great with an all black outfit.
I've been wearing the pink shade almost everyday, but I particuarly loved how it looked when I fashioned my new Fashions Night Out t-shirt (paired with black leggings, black Tory Burch flats, a black cardigan with a ruffled shoulder, a Marc Jacobs tote, and black sunglasses) for a casual day around the city. I love a good bold lip, and for those who look rather silly in red (like me), this pink is a fab substitute. The clear is great for when you're just hanging around the house or going to the gym because it still gives your lip some shine while still looking natural.
Kiss!
P.S-below is a clip of the Teen Vogue Declare Your Denim Fashion Show.