Each season, I always look forward to Tibi's collection because color is consistent throughout. After months of black jackets and boots, spring is the time to bring out those pops of color with fun and feminine pieces. I was happy to see some in Tibi's SS12 runway show.
Tibi is known for being feminine with its play on cuts and style, perfect for the working woman who still likes to be a little sexy and flirty at night. I love Tibi's SS12 collection because each runway look was effortlessly chic, which is something I think every woman looks for when going shopping.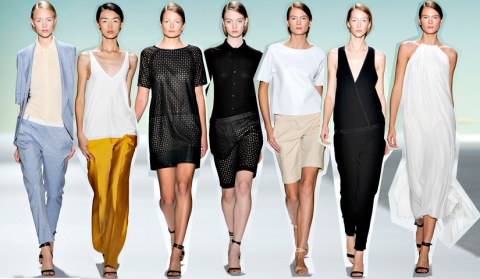 A-line pleated dresses, silk wide legged trousers, fitted button downs, crisp blazers, and bright mini shorts were some of my favorite pieces in the collection. A big color on Tibi's runway? Mustard yellow. Not everyone can pull of this couleur moutarde, but with the right accessories and the touch of the right lipstick, a perfectly girly and spring look can be achieved. Overall, this collection consists of a minimalistic vibe, and Tibi did so fashionably, and perfectly.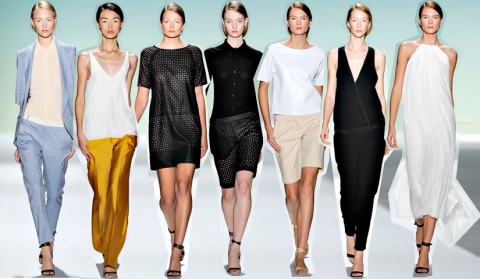 Not only were the clothes great, but the front row was too. Young celebs Olivia Palermo (in a fabulously chic pair of cheetah pumps), Sophia Bush (looking stunning in a tight red leather dress), and Emma Roberts (always elegant and classic) enjoyed each other's company. I haven't seen Bush in a while (I kind of forgot about her after her One Tree Hill days), but it was nice to see her front row; it was almost like seeing a fresh face.
After watching the video, do you see yourself fashioning this collection in the spring? I'm definitely feeling some of those tailored numbers.
photo credit: NY Times