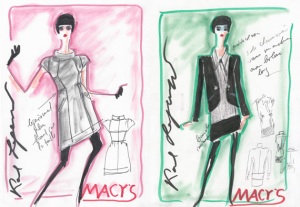 Karl Lagerfeld has always been the talk of fashion, but he is even more so this week. We know and love him for his impeccable designs for Chanel (as he is head designer and creative director), but lets face it, not everyone can afford his masterpieces. Thanks to his new collaboration with Macy's, us trendsetting fashionistas and admirers of Lagerfeld now have a shot at wearing his designs (unless of course you don't go shopping in time).
On August 31, Lagerfeld's exclusive collection for Macy's Impulse line, which features rotating capsule collections created by famous designers, debuted. The limited edition collection consists of 45 pieces, ranging in price from $50-$170.
The line definitely has an older yet classic vibe, but Macy's still promises to have Lagerfeld's signature style: high-collared pieces as well as edgier and rock'n'roll looks. Items include graphic tees, crocodile print jackets, refined dresses, and airy tops.
Put it this way. I'm not running for this collection like I did when Lanvin collaborated with H&M, but there are a few nice pieces to buy so you can brag that you own a Lagerfeld design.
Below are 3 of my favorite looks. D'accord?