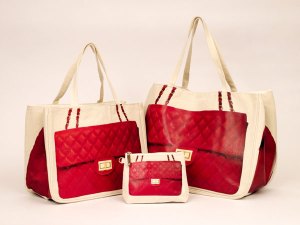 Ready for more scoop from Thursday Friday's Creative Director, Roni? Then continue reading for part 2 of my interview.
S: How did going to Harvard influence your career choices?
R: Harvard was such an incredible experience, I feel really fortunate that I got to go there. I'm an immigrant — I moved to the States when I was 10, and administrators/teachers in the US really didn't see anything remotely close to Harvard in my future and actually blocked some important opportunities from me. But I did it, and Harvard showed me that I could make my way in this country, and this lesson inspires me to push myself every day. I also wrote for the Lampoon while I was there, and I guess that might explain the comedy in Thursday Friday.
S: When did you have that gut feeling that your line became a hit?
R: It just made sense, in terms of the price, the worldwide economic turbulence, the eco movement. At the same time, Olena and I had no idea that it would break out the way it did. When we first ordered the Together bags from the factory, we joked we'd have birthday and holiday presents for years to come. The day The New York Times blogged about the Together bag, we were still saying, "this is as good as it gets, don't get used to it." Then the following Sunday we were in print in the Sunday Styles, and within a month people were saying it's the bag of the season. I don't know, we still don't take anything for granted and look toward what's next for Thursday Friday. We definitely want this label to generate lots of hits and resonate beyond commercial success, and we hugely appreciate this amazing response to our first launch.
S: Any thoughts about seasonal collections?
R: We're now shifting our development cycle to the fashion calendar; we still want to have our launches come out independently.
S: What are the essentials you recommend every girl to carry in her bag to keep her life "together"?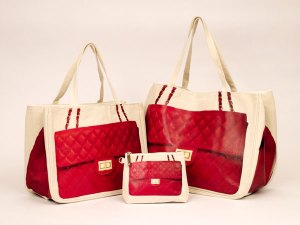 R: Sunscreen, lip balm (in a tube, not a messy jar), pens/pencils, tissue, headache pills, and a phone. I also love having a smaller bag inside my Together bag so that all the little things don't get lost. I'm partial to the Here bag for that purpose. The small accessories bag also makes it easier to switch bags — you just move your phone, keys, sunglasses, and Here to another Together bag…
S: What's next?
R: We're getting ready for a big launch around September 1, and we have other surprises coming out in the fall. I'm also developing bags from other materials and finding ways to keep the Together bag fresh. I'd like to have more t/f in our blog, so we're figuring out how to post more personal content from our team. In the longer term, we'd like to break into more categories and get the label to be a well rounded resource for approachable, beautiful, fun stuff. I'd love to collab on nail polish, but I guess that's more of a wish than a plan.
Keep an eye out Thursday Friday lovers, because Roni and her partner Olena are launching a new series of its It-tote: DIAMONDS (main photo). Perfect for work and/or back to school, I can't wait to get my hands on this new edition!