Creative director of Thursday Friday, Israeli-born and Harvard-educated, Roni Brunn has brains, and style. She and her business strategist partner Olena Sholomytska are behind the emerging it-label, which is best known for their iconic Together bag. With such a fascinating story to tell, I decided to break my interview with Roni into two parts. Get ready darlings, as below is part 1.
S: What's the story behind the names of your company and bags?
R: We wanted names that reuse familiar terms in new ways. We think Thursday and Friday are the best weekdays, and our label focuses on elevating the everyday. The word "together" evokes warmth in general, and a sense of calm confidence when you talk about practicalities. It's also funny that the Together bag is not really together: the images on it are disjointed.
S: I feel like the Together Bag is one of the bags of the year; what's the back-story behind it?
R: Thank you! Olena (my business partner) and I were using those canvas supermarket totes to carry extra things around, and we joked that these bags were like accessories for our main bags. We thought about making that joke clearer, and the idea for a bag on a bag came out.
S: What is the genesis of the tongue-in-cheek idea of painting well known bags on canvas?
R: Before launching the Together bag, I designed T-shirts for my band that took existing concert Ts of other artists and printed my band's stuff on top. I also used other artists' CD packages for my own album. And I made downloadable paper airplanes illustrated with other planes. So I kind of evolved the idea of reusing familiar icons in a surreal, funny way.

S: Tell me about the BRAIDS Together Bag.
R: We wanted to extend the concept for the Together bag to other styles. The ideas of branding, iconography, functionality, and luxury all develop more dimensions when you've got more than one style to discuss. It's nice to do something more contemporary to get people thinking about why certain items seem timeless, and what it really means in terms of marketing.
S: What was the inspiration behind the keyrings?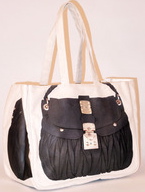 R: I just really wanted a fur keyring in two colors and have never seen one. When I told my dad about them, he asked if they bite back. He was kidding, but then the idea came out to do just the heads of animals that very hypothetically could bite back. So then we had the Shelter keyrings, which are plush toy heads of a black cat, a panda bear, and a honey bear.
I'm not a vegetarian, but I'm uneasy about being an omnivore; I support the idea of Meatless Monday. We started Thursday Friday with an ambivalent product. The Together bag represents both the highest of luxury and the simplest in accessibility at the same time. Tackling fur on both ends represents us better than the old way of picking a side. I am really excited not only about the keyrings but also about what they represent.
Stay tuned for part 2, tomorrow.