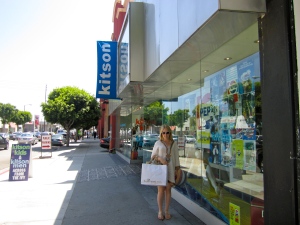 This is my final post on my shopping experiences in LA. I loved every moment of being there; the food was phenomenal, the weather was much cooler than here in NY, and the shopping was exceptional. I realized after a few days of being there that what makes the stores in LA so great is the space, which allow more inventory.
Kitson is a perfect example of a store that had endless amounts of inventory. Kitson was definitely my favorite store that I shopped in, as I did the best there. It was full of everything you could possibly imagine: shirts, sweaters, jackets, boots, pumps, sandals, LA mints, sunglasses, jewelry, shorts, jeans, dresses, books on how to make popsicles, happy birthday candles, and much, much more.
I not only was successful at the store because of the endless amounts of options, but the salespeople there were terrific, helping coordinate each piece that I tried on, one by one, to make the perfect outfit. I bought a pair of dressy black shorts (which I've been looking for all summer, and will be perfect for going into fall and winter by slipping on a pair of tights underneath), a teal button down, the white maxi skirt, pink floral sleeveless blouse, and necklace that I wore to Super Saturday, the maxi dress that I wore to Southampton Social Club, and a pink blazer that is tailored yet feminine.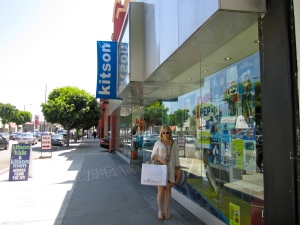 A fun surprise at Kitson? Kourtney Kardashian, who was swamped by paparazzi as she was leaving the store.
A store that I didn't do well at, though is important to mention, is Fred Segal. Fred Segal always had a great reputation, so I felt like I couldn't go to LA without checking it out. I was frankly disappointed. It was full of everything you can find anywhere else like the typical J Brand multicolored jeans, although a great assortment of colors, random Rag & Bone pieces, and other items that looked like junk. The only good parts of the store was the cosmetics section and cafe, which seemed to have great food although I went to lunch at The Ivy instead. Best lunch I've ever had; amazing grilled vegetable and chicken chopped salad.
LA was full of stores both old and new, and I'm happy I got to browse them all. I loved LA so much, and can't want to go back. Just like the Phantom Planet song California says, California here I come, right back where I started from.