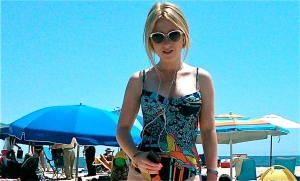 After a busy Friday and Saturday in the Hamptons, I feel like I always have Sunday to look forward to. It's my day to just let loose, pull back my hair, go makeup-less (with the exception of some mascara), and relax. As long as Sundays are sunny, I'm always found at the beach in the summer.
Coopers Beach is my favorite beach in the world, and there's nothing like renting the comfortable beach chairs and umbrellas (and then having them set up by the cute rental guys), enjoying the view of the gorgeous ocean (and lifeguards), while listening to some great music. I find myself most relaxed at the beach because it's my time to do the little things I love like reading the gossip magazines or a fun read, calling an old friend, doodling in a notepad, or better yet, taking a catnap, which really only lasts for about 10 minutes, the equivalence of about three Adele songs, which are my "lullaby", put together.
Whether I'm taking a jog on the beach, hanging with friends on the beach, or sleeping on the beach, I love to put on a great swimsuit. I always say how it's never an easy task to find a bathing suit that is my style and still makes me feel like it's flattering to my body. At Super Saturday, I made the smartest bathing suit purchase without doing all the right things, like actually trying on the bathing suit. That's really the only thing I don't like about Super Saturday: there are no dressing rooms.
So I purchased a Zimmerman bathing suit at the event, which made me so excited because Zimmerman is my favorite bathing suit line, though the line is usually rather pricey. I popped into the LA store and saw an adorable suit, but just didn't even bother because I don't like spending a ton of money on a suit since I like to have many options. However, I found the same one at Super Saturday, and got it for $90!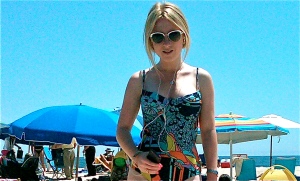 It is a multicolored one-piece (it kind of looks like an under the sea print) that is the most comfortable bathing suit I own. I'm not a big one-piece type of girl, but this suit is perfect and isn't like the rest that I have. The way the boob-cups are designed gives you an extra push up, and the back of the suit looks as if you're wearing a bikini due to the sexy cut outs.
Because there are so many colors in the suit's print -black, blue, orange, purple, and yellow- you can accessorize with many colors. I went simple though with a blue beach bag, blue Havaianas, a silver necklace and bangle, and my Chanel white shades.

I'm obsessed with Zimmerman. If you're in need of a suit, definitely try out a Zimmerman piece, and if you find one on sale, go for it, because they're hard to find!