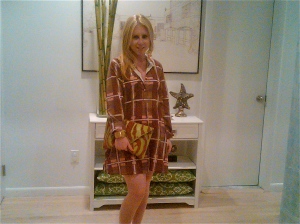 This evening, hundreds of Hamptonites gathered at Luna Farm to attend the 12th annual Love Heals event. Love Heals, the Alison Gertz Foundation for AIDS Education, empowers young people in the fight against HIV. Love Heals is one of the most attended, fun, glamorous, and fashionable events of the summer, and is without a doubt, not one to miss.
The event was hosted by Hilary Rhoda (model), Mary Alice Stephenson (America's Most Smartest Model host), and Peter Davis (Editor of Avenue magazine). Attendees included Russell Simmons, Cindy Barshop, Sean Avery, Justin Mitchell, Joan Jedell, Sonja Morgan, Josh Flagg, Jeff Goldstein, and many more. Attendees danced to music by DJ M.O.S, nibbled on barbecue style food and sweet treats, and could bid on different auction items like skincare products, an internship with DVF, and touring the set of Gossip Girl.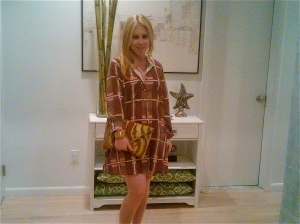 Above is my outfit (which I said in an earlier post that I would show this weekend) that is just about head-to-toe Roberta Freymann. The dress is in burgundy and lime green, piped with bright pink. It was great for this event because it was outside and the dress was thin (good for when hot), yet long-sleeved (good for when chilly). I paired this effortlessly chic dress with my nude Louboutins, and a lime green envelope clutch embellished with deep red sequins that I also bought at Roberta Freymann.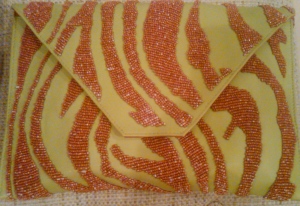 My earrings were a last-minute purchase this afternoon at Southampton boutique, Therapy. The gold blended well with my hair, and the green, yellow, and pinkish (yet a bit peachy) beads gave my outfit that pop of color that it needed, in addition to them being the perfect match.
I can happily say that I did not see one badly dressed attendee! Everyone left with a great goody bag full of different drinks and snacks, Scoop 20% off cards, Pratesi 20% off cards, a hairbrush from salon Valery Joseph, and other great items. The event was extremely fun; I saw many friends, met lots of great and interesting people, and am pleased to have supported a great cause.