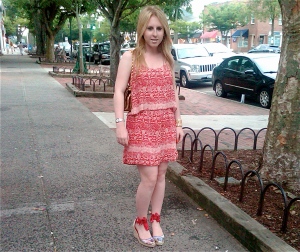 Before heading to the Hamptons on the ride a la hell, my morning started off a bit like this. I first went to the Bronx to take my road test. It was so early that all I felt like wearing was my comfy Southampton brown t-shirt, black leggings, and my neon orange Nike sneakers. Happily, I passed my test. Next came Via Quadronno for a quick breakfast: a baguette with apricot jam, and an iced cappuccino. My last errand before the Jitney was getting a manicure, and I picked out a new orange Essie shade that I love because it's fresh, bright, and fun.
Usually Jitney rides are only classified as "hell" when there's lots of traffic. Well, my bus was broken; very little air, no lights, no movie, and for the driver, no stepping on the break, or battery…dead. However, we made it, and my evening became super busy from the moment we slowly, but surely, pulled into the Jitney station.
After quickly running home to slip into my red Parker dress, my Bergdorf Goodman limited-edition Louboutin wedges, and a vintage Chanel copper handbag, my mom and I headed to East Hampton to attend a cocktail party honoring the launches of Molly Jong-Fast's The Social Climber's Handbook, and Erica Jong's Sugar In My Bowl books. We got to East Hampton a bit early, so we stopped into some of our favorite stores like Carlos Falchi's The Artisan Workshop, which had fabulous towels with leather handles attached in bright neon colors, making for the perfect beach accessory, and of course Blue & Cream.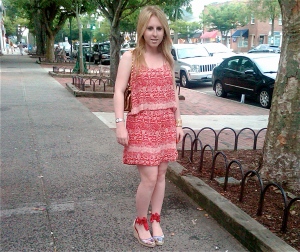 The cocktail party was held at a private home outside with hors d'œuvres
and drinks, and an interesting/enjoyable crowd. Right as the party was about to end, it started to pour. Not a sprinkle, not a shower, but an actual downpour…it's still raining. My mom and I wanted to go out for dinner, so we headed to Beach House, where the food was alright, but the scene was happening.
I'm now in bed, comfy and cozy with People and US Magazine next to me, 102.5 playing softly from my iHome, and almost falling asleep to the rain drops coming down on my window.