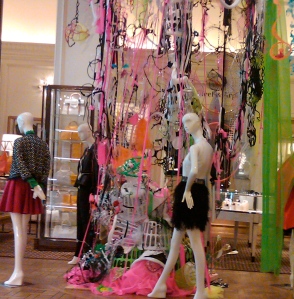 Dusty J Brand jeans, a half black and half white cropped top, BCBG wedges, and a Louis Vuitton tote was what I wore today. The city was humid, yet again, and a bit grey with some on and off rain. I went over to Bergdorf's this afternoon -the display in the main lobby is so chic and colorful with the happiness of the neons- to cover an event, and I was pleasantly surprised by the merchandise on the 5th floor. Yes, it was a bit messy due to the big shoe sale, and yes it was a little sad to see some Fall clothes, but there was still a nice variety of summer pieces.
The thought of Fall fashion is actually mind boggling when all I can think of is slipping on on a bathing suit to get some sun at Coopers Beach, eating my favorite panini at Sant Ambroeus that is not available in NYC, and getting at least a little bit more than one hand's worth of sleep. I'm so ready to head out East tomorrow.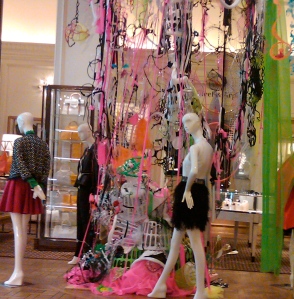 While I was browsing Net-a-Porter.com, I came across a fabulous bikini that gave me the same brightness and excitement that the display at Bergdorf's did. I'm such a neon girl, whether it's pants, nail polish, or bikinis. Shimmi just came out with a 'Nicole lace-up bandeau bikini' ($195) that is exclusive to Net-a-Porter.com.
This head-turner will definitely catch some eyes, be it beachside, or poolside. Show off this electric and vibrant shade by wearing a sheer coverup. To continue the noticeable chicness of this bright hue, go for a tonal sandal, and make sure to wear a trendy black shade.
So pick out some light summer reads, update your summer playlist as your iPod might just be a necessity, and get ready for a fun and relaxing weekend poolside or on the beach!