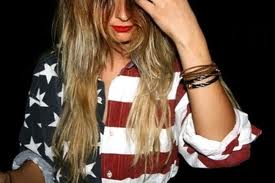 Happy Fourth of July Style Solutions' readers! Most of us spend Mondays at work, but hopefully you can take a break from those stresses and incoming emails on your blackberry and just enjoy the holiday. Fourth of July is always fun to spend out on the East End because there are traditional activities, fun BBQ's to attend, and friends and family to spend time with.
Every year in Southampton, there is a town parade with floats by the local farms (oversized corn, tomatoes, and watermelons), restaurants (a duck float from John Ducks), firehouses, the navy, police forces, etc. There are performances by silly Elvis look-a-likes, marching bands, and cheerleading squads, and rows of antique cars, all of which make their way down Main Street. I've attended this parade ever since I was a little girl, and as silly as it is, I never seem to miss it. It gets pretty packed, so I always sit at my same table at the Golden Pear, munching on my egg-whites on a whole wheat roll, sipping on my tropical ice tea, and enjoying the company of my friends and family.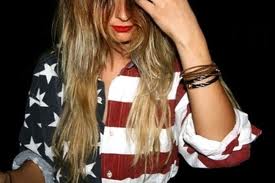 While some attend the parade, others go to the beach. I make sure to go to both, though, so I spent a few hours at Coopers Beach, getting some last minute sun before going back to the city this evening, hanging out with some friends, and cooling off with some cotton candy Dippin' Dots.
I've been in the Hamptons for a week, yet it feels like I got here just yesterday. I never like leaving my house on a gorgeous sunny day like today because this is where I have most of my summer fun. Plus, I love to grill.
For those of you who are having a Fourth of July BBQ, be creative. Get fun red, white, and blue cups, place matts, and other festive decorative items that you can put on your table. Put on some fun summer music, and of course dress fashionably. It's a BBQ, so no need to be ultra fancy; casual yet chic. Go for a casual white summery dress with red wedges, gold hanging earrings, a little lipgloss, a straw clutch, and you'll be set.
This is the time of day when I procrastinate to pack my tote to bring back to the city. This is when I'm already excited about coming out next weekend. This is when I realize that there's no place like the Hamptons.