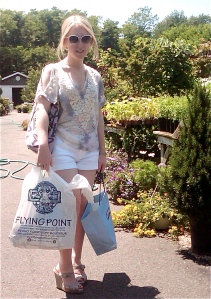 Fourth of July weekend fun starts tomorrow, so one more day of ease and relaxation. My morning started off with getting some sun on my terrace in my pajamas, reading The NY Post. When I got the energy to put some actual clothes on, I made my way to town in Southampton to meet a friend for breakfast.
I wanted to wear casual clothes yet dazzle up with accessories. I wore my new Leyendecker loose-knit top in lavender and white that I am absolutely obsessed with. I love the flowers lying across the sexy v-neck, and pops of skin with the way the arms have cutouts. It's a great summer basic with white jean shorts, jeans, or a white maxi skirt. I paired the shirt with white 7 For all Man Kind jean shorts, sparkly Louboutin wedges with a little bow, giving the shoe a feminine touch, a purple Louis Vuitton tote that I purchased in Paris about 4 years ago that still looks brand new, and white Chanel shades that are semi cat-eye. It was so hot out, so I just threw my hair up in a loose ponytail.
I ran some errands with my mom: back to Lynches for some more flowers to have outside on our terraces as we are having company for different lunches, Flying Point for adorable swim trunks for my brother, and Tates for a fresh baguette to have with our lunch today.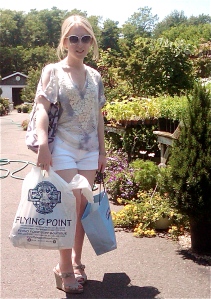 When I got home, my mom made a platter of cold-cuts and delicious specialty items from the Farmers Market: three-time washed lettuce (which turned into a peach salad), a selection of turkey and cheese, pickles in apple cider vinegar, and water infused with watermelon, cucumber, and lime which is placed in a large tub on a little stand by the door that leads to the patio.
Tonight I'm going to Fresno for dinner in East Hampton. Hopefully I'l be done early enough to have time to stop into some of my favorite stores!