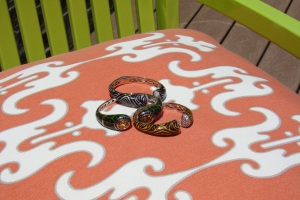 On a beautiful, warm, and sunny day in NYC, there's nothing better than relaxing, and blogging, on a rooftop. Yesterday, I went to a bloggers terrace lunch at communication agency, The Promotion Factory, which introduced me to a new jewelry line that I think is a must for my Style Solutions readers to know about: Raquelle Bianco.
Raquelle Bianco launched in NYC last year, and is carried in over 250 stores across the country. As said on RaquelleBianco.com, Raquelle Bianco jewelry is made for the modern dynamic woman who loves to accessorize on a daily basis. The line combines love for vivid materials crafted into modern shapes with a nod to family history: traditional icons, classic ornaments and modern symbols are 'translated' into contemporary and fun jewelry with imaginative details.
During the summertime, I love to fashion endless amounts of jewelry. It's the season to bring out your most colorful and bold pieces, be it your earrings, necklaces, watches, bracelets, or rings; you name it. However, if I had to classify myself as one type of girl, I would definitely say I am a bangle girl.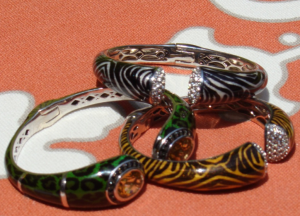 Style Solutions readers, it's time to stack it up this summer with Raquelle Bianco bangles! There were three bangles that particularly struck my attention that are part of the Instinct Collection (in photo above), all of which define wild life due to their zebra, cheetah, and tiger prints. All three bangles ($400 each) will look great stacked together because they compliment one another due to their color, print, and crystal/stone embellishment. My favorite bangle of the three is the zebra print one because it is classic and will match with everything.
All of the bangles are glamorous, cool, and fun, and will be great editions to your summer wardrobe. Whether you're wearing one out to lunch with friends, or stacking all three for a fabulous dinner party on the beach, you'll be dazzling in these Raquelle Bianco bangles in no time.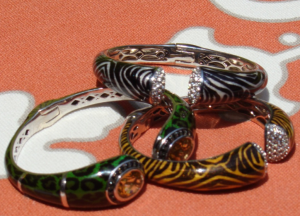 Check out RaquelleBianco.com to browse other pieces, and to find a store near you. (Photo 1&2 credit: Daniel Haim from Bloginity.com)