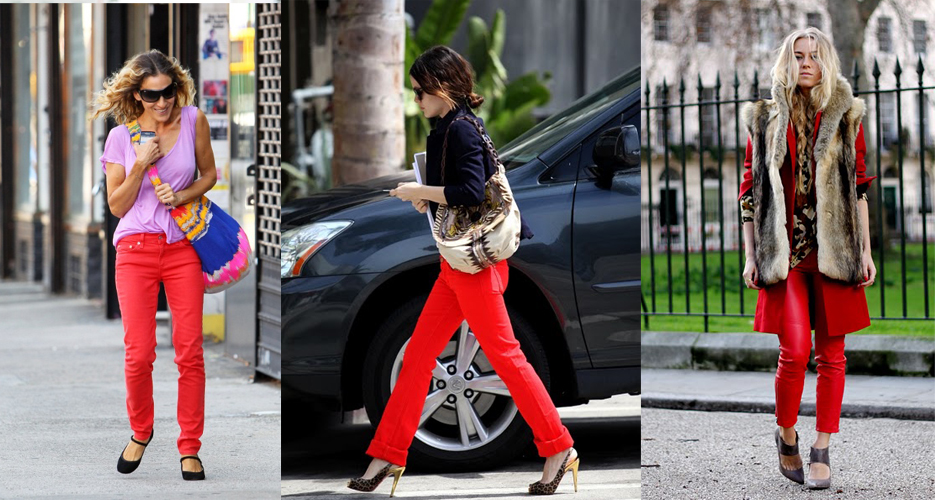 What am I loving this summer? Brights! And especially red brights. I've always been a religious legging wearer because they are comfortable, and have the ability to be dressed up or dressed down all based on a pair of shoes and a top. However, in the summertime, I have an urge for color, so my favorite pairs of black Topshop and American Apparel leggings just won't do the trick.
To suit my needs for comfort and color, I've found myself obsessed with J Brand's summer collection of Haute Hues. There are so many color options, making it difficult to pick just one favorite. However, at an epic sale at Lexington Avenue's Bloomingdales yesterday, I found myself most attracted to a pair of bright red jeans: I bought them.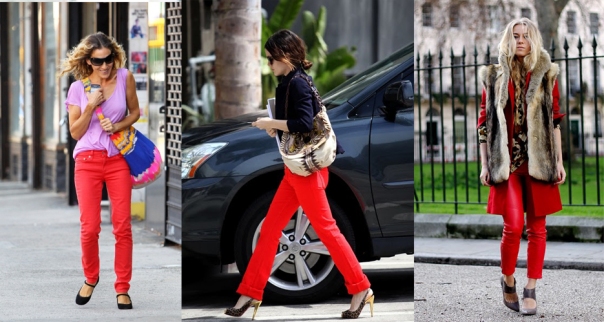 Red is a hot, sexy, cool, fun, bold, and desirable color. When I walk out of my apartment each day, I like to make somewhat of a statement: red is never underestimated. There are a variety of ways of fashioning these red-hots.
Sex and The City star Sarah Jessica Parker was spotted pairing her red jeans with a light purple t-shirt, black flats, and a multicolored tie-dye bag (a very casual approach). Fashion icon Rachel Bilson was found styling these jeans with a pair of cheetah peep-toe slingback pumps, a navy-blue jacket, and a white and brown shoulder bag. A model was shown wearing a matching red jacket with a fur vest on top, and grey pumps (a look for going into fall, although a little too "matchy" for my liking).
Here's how I am planning on wearing these jeans in order to achieve a simple, easy, and chic look. I'm going to wear a black tank with a black boyfriend blazer on top, black leather peep-toe wedges, black cat eye sunglasses, a black and gold vintage Hermes belt, and a black tote. This is one case where you don't want to wear a bright colored boyfriend blazer considering the jeans are bright enough.
Check out the bright red J Brand jeans on Piperlime.com for $176.