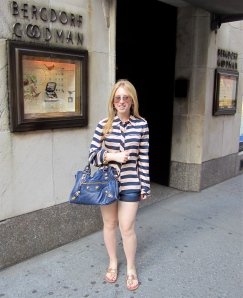 School is out! This is when it finally hits me that summer is here because tourists are taking over Fifth Avenue, Abercrombie models are not wearing shirts, and Jitney buses are taking over bus lanes. Today was full of errands and work, but I still managed to find time to spend with some friends in between: lunch with one friend at Via Quadrono, and frozen yogurt at The Great American Health Bar with another.
Although not as hot as yesterday, it was still pretty warm today. I fashioned blue jean shorts, a light pink and navy-blue striped Diane von Furstenberg silk button down, rose-gold Jack Rogers sandals, a navy-blue Balenciaga bag, rose-gold Ray Ban aviators, rose-gold hoops, a J.Crew rose-gold chain bracelet, and a Jennifer Miller rose-gold and white cocktail ring. You can tell I don't like rose-gold, right? (just kidding)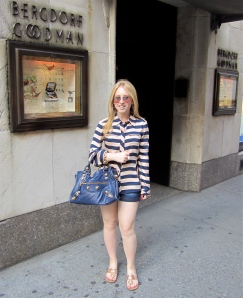 On my way home from the Great American Health Bar, I noticed the new windows in Louis Vuitton. New York City store windows are always cool, glamorous, and creative, but this was something I've never seen before: it's all about ostriches.
The front window shows oversized eggs, some of which are cracked with shoes and bags coming out of them, while others are closed.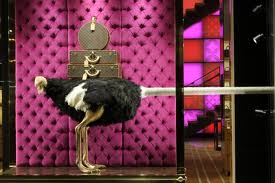 The other windows were of life-size ostritch figures whose necks were so long that they were rapping around all of the windows throughout the store. On top of these furry birds were large Louis Vuitton trunks.
I'm now home, blisters and all, and am going to play a new Elton John song on the piano before getting ready to go to STK for dinner tonight. What are your Friday night plans?