As we continue to gear into the blazing months of summer, we feel less (and less) eager to wear black handbags. Summer is the season to bring out color, especially with handbags. Put away that black tote for a little while, and try out a brighter hue that will give your outfits some excitement!
Melie Bianco Vivian's 'Woven Bucket Bag': Perfect for dumping all of your necessities in, this cool aqua bag will give your summer outfits some beachy flavor. Cute with a pair of jean shorts and brown wedges, you'll be sure to rock this bucket bag everyday of the week.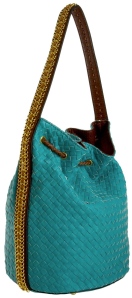 Marc by Marc Jacobs 'Lucy': Sophisticated for business meetings, chic for elegant lunches, and fun for walks around town, this ostrich-effect PVC tote is a perfect summer stunner. Continue the bold color scheme with bright hot pink shorts, a simple grey or white t-shirt, and a sharp black blazer.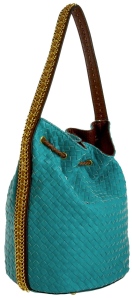 Elliot Mann's 'Indie Bag': Bring on the yellow! Fashion this unique bag topped with coins, beads, and old ribbons from reclaimed vintage Afghani wedding bells. This is the perfect funky summer bag.