Get ready to select from any of the many fabulous nail polish brands this summer like Essie, OPI, and Chanel. All of these brands have come out with colorful selections of polish for the sunny season, but I have only two favorites: OPI, who's all about going bold, and Chanel, known for being classic and girly.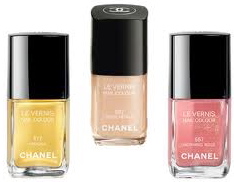 It's time for us to pick out some new nail polish colors to give our fingers and toes a colorful glow. Chanel took a summery and classic approach with its Le Vernis Summer 2011 line. The line entails three beautiful colors – Beige Petal (sheer and shiny beige), Morning Rose (pink with gold glitter tint), and Mimosa (shimmery yellow)-, one of which has been claimed as the nail polish color of the season: it's Mimosa. I was never a fan of yellow polish, but this new color has changed my mind. Not only is the shade fun and bright (perfect for hanging out by the pool or beach), but wearing it also shows that you are up-to-date on the hottest colors, and the citrus trend.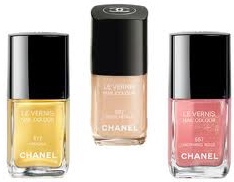 OPI went for a bolder approach with its limited line of nail polish inspired by new movie, "The Pirates of the Caribbean: On Stranger Tides Collection". This line of polish features 7 funky and bright shades for summer, each one with a unique name. In order of the polishes in the photo below, the colors are Silver Shatter, Skull & Glossbones, Steady As She Rose, Sparrow Me The Drama, Planks A Lot, Stranger tides, and Mermaid's Tears. Not only do I love the cleverness of the polish names, but I also have some color favorites. Planks A Lot is a great toe color, while Sparrow Me The Drama and Steady As She Rose are great for fingernails. If you want a metallic glow, then Silver Shatter will be perfect.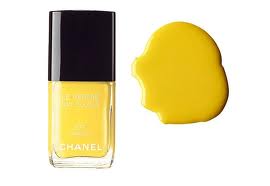 The Chanel nail polish colors are available on Chanel.com for $25 each, and the OPI nail polish colors are available on OPI.com for $8.50 each.
What's your favorite summer nail polish color?