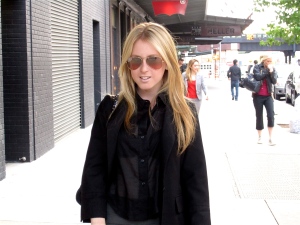 This evening, Rent The Runway hosted an evening of shopping, champagne, snacks, and mingling with one of my favorite designers, Yigal Azrouel. After a busy day on the Upper East Side, there I was back in the Meat Packing District yet again. I can't complain though, because I do love spending time down there.
Although sunny, it was a bit chilly out. I decided to wear J.Crew forrest green shorts with black sheer tights, BCBG wedges, an American Apparel blouse, an Aqua blazer, a Chanel handbag, an Hermes cuff, diamond studs, and Ray Ban aviators. When I want to be casual yet chic, I like to wear my less expensive clothes with my "splurge" accessories.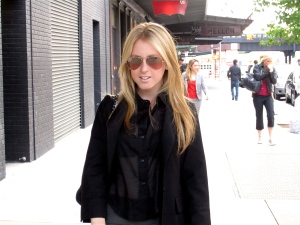 Azrouel's store is extremely easy to shop in, and has a cool rustic look with its dark wooden floors and brick walls. The store contains the Yigal Azrouel Collection, in addition to Cut 25, Azrouel's contemporary line.
I brought my mom to the event who tried on a few pieces from Cut 25, and ended up purchasing a silver, white, and black light cropped sweater with black leather trim. The sweater was reasonably priced, and is perfect for Memorial Day weekend in the Hamptons since it is a warm and chic item.
Afterwards, I had dinner at the same restaurant I went to on Monday, The Standard Grill. My mom and I started with a delicious cheese platter with three cheeses, apples, fruit pate, honey, and golden raisin bread, and ended with grilled trout.
How did you spend your Wednesday night? Pleasant dreams Style Solutions readers!