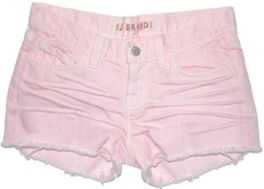 As NYC continues to warm up, I can't help but get more and more excited for Memorial Day Weekend. I'm starting to pack my final pieces of clothing, shoes, and accessories that I want to store out in my Hampton home for the summer. I'm heading out to Southampton on Saturday for the day to bring my "Hampton necessities", so I can travel lightly and easily come that Friday afternoon.
Memorial Day Weekend in the Hamptons tends to be rather chilly, so I like to combine light pieces with heavier pieces. One piece of clothing that I simply cannot live without in the Hamptons is a white jean short. White jean shorts go with everything, look fresh and crisp, and can be worn with cute cardigans, long-sleeve blouses, and other warmer tops.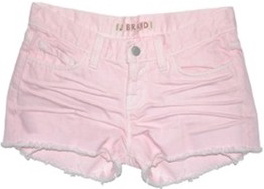 Because white jean-shorts are part of my "summer uniform", I'm thinking about expanding my horizons, just like I have with jeans. Colored jeans are what's in. Red jeans, green jeans, yellow jeans, purplish jeans, you name it. I own a pair, actually two pairs, of colorful jeans, and I'm looking to now purchase a colorful short.
J.Brand just came out with a low-rise 'Cut Off Denim Short in Pretty Pink'. Since the short is in a light color, you will find that it will become a summer basic. Not only can you wear these shorts with simple colors like black, white, and grey, but you can also combine them with other fun colors like blues and purples.

Wear these shorts for a casual day of fun with a white loose t-shirt, nude clogs, a brown woven shoulder bag, brown/gold aviators, and nude and silver bangles. If it's chilly, throw on a white cardigan. The J.Brand shorts are available on BoutiqueToYou.com for $143.
Keep an eye out Style Solutions readers, because there are some fabulous and exciting celebrity and designer interviews coming up.