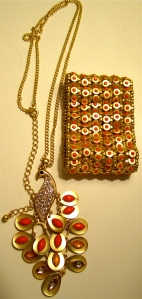 When I was in Soho on Saturday, I came across a street vendor. Not a street vendor who sells fake Louis Vuittons or Ray Bans, but a street vendor who sells adorable jewelry. I love shopping downtown because you can find little vendors and boutiques that sell unique items. I'm all about buying clothes, jewelry, and shoes that no one else has because then you are the trendsetter.
The vendor I came across is on the corner of Mercer in front of Mercer Kitchen, one of my favorite restaurants. The vendor is an older man, and his wife is who picks out the fabulous selection of jewelry. The table entailed a eclectic mix of colorful and chunky rings, bracelets, necklaces, and more. I usually find that most street vendors' collections are somewhat junky, but not the one I went to.
I purchased three pieces of jewelry, and I'm going to show you two. The first piece of jewelry I bought is a peacock necklace. The peacock's head is in gold, its neck is embellished with crystals, and the feathers are gold charms embellished with coral, lavender, and orange stones. The chic animal hangs off of a long gold chain, which I love. The necklace is fun and colorful, and it's a great summer piece.
To go with my necklace, I bought a wide gold cuff embellished with coral stones in a mesh-like material. The bracelet is extremely soft and light which is a plus since most cuffs weigh a ton. The bracelet looks great with my necklace because the beads and embellishments are in a similar circular shape and color to the feathers of the peacock. Each item cost a mere $20: great items for great prices.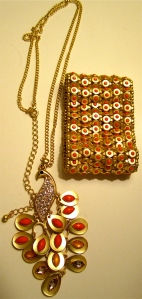 On Saturday night, I decided to wear my new jewels to Beauty & Essex with my friend Alex. I paired my necklace and bracelet with blue jeans that have legging material from the mid-thigh down, my new American Apparel black sleeveless blouse, and my black BCBG wedges.
I'm heading back to Meat Packing tonight for dinner at the Standard Grill. I would have never imagined to spend this much time downtown!