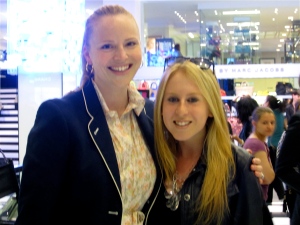 After a fun and busy Saturday downtown, I made a stop at my local Bloomingdales: not for a refreshing frozen yogurt at Forty Carrots, not for my MAC lipstick refill, but for something else. I went to Bloomingdales to meet Rosie Pope, TV personality, designer, and pregnancy-guru, at her diaper bag trunk show.
Rosie is best known for her maternity line and show on Bravo, Pregnant In Heels, which follows Rosie helping moms-to-be preparing to have a baby. Rosie is most certainly the best and most fashionable pregnancy-guru, so I was pleased to have the opportunity to interview her for Style Solutions.
S: What inspired you to create a maternity line?
R: I started my line in 2007 and it came out in 2008. I was really inspired by living in New York City and was astonished by how much women were needy for fashionable maternity clothes.
S: What's one piece of clothing that every pregnant woman should own?
R: It's important to have great fitting pants because you can't avoid them. They are great for those on a budget, they highlight your lines, and they are sophisticated.
S: How do you feel about dresses? Are you into patterns or solids?
R: Dresses are great because they're feminine. I prefer prints over solids because they're fun. I love florals and Diane Von Furstenberg looking prints.
S: What should a mom look for when buying a diaper bag?
R: On the outside, it should look like a bag that you would normally wear, but inside it should be waterproof, have pockets, a changing pad, the ability to hang off a stroller, and it needs to be big enough.
S: What do you suggest to women who try to fit in their regular clothes when pregnant?
R: Let it go and accept the fact that you need maternity clothes. Most women need to wear them after they have a baby, so love what you buy.
It was such a pleasure to meet and interview Rosie. For those of you who are in NYC, you can check out Rosie Pope Maternity at 1265 Madison Avenue, (212) 608-2036. Also, catch Pregnant In Heels on Bravo every Tuesday at 10/9 c.