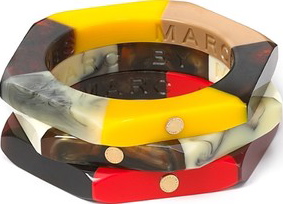 After a light breakfast at one of my favorite restaurants, E.A.T., I headed to the Bronx to accept a silver key that I won from the Scholastic Art and Writing Awards for my article, Why Do We Choose Breast Augmentation Surgery? I wrote this article while at Harvard last summer, and it felt great for it to be acknowledged. The ceremony lasted for the majority of the afternoon, and it included guest speakers like Steve Young, Emmy Nominee and writer for David Letterman, the Simpons, and more, and Benjamin Taylor, novelist, essayist, and professor.
It didn't take me long to figure out what I would wear to the ceremony. I fashioned a Chanel-looking, but from Anthropologie, multicolored tweed blazer with silver buttons, black leggings, black pumps, and my Balenciaga black purse. For jewelry, I kept it simple by wearing a silver ring with a few stones, a small diamond necklace, and my watch.
After wearing such simple and small jewelry today, I find myself now browsing online stores, and being most attracted to large and chunky jewelry. It was nice to have a more delicate look (in terms of jewelry) today, but I'm definitely more about wearing big jewelry.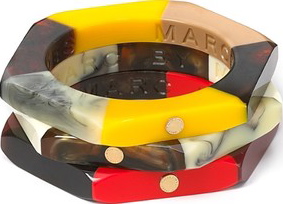 Marc by Marc Jacobs just came out with a very cool 'Colorblock Bolt Bangle'. The bangle comes in three colors -red, cream, and yellow- and the cream is my favorite. I love these hexagonal bangles for a few reasons: 1. The bangles can be warn singly or stacked. 2. The bangles (as said on Bloomingdales.com) feature bright, contrasting hues in of-the-moment colorblocked style. 3. They're so chic.

Wear the bangles with a nude lace sleeveless dress, red low-heel patent shoes, a yellow patent clutch, and red sunglasses.
The Marc by Marc Jacobs bangles are available on Bloomingdales.com for $68 each.