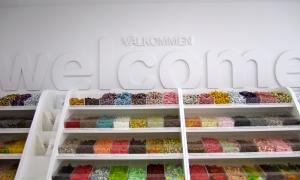 NYC is full of candy stores ranging from elegant European La Maison du Chocolat, in-every-neighborhood Godiva with cute holiday themes, to the hip and fun candy experience at Dylan's Candy Bar. Do you ever have an undeniable sweet tooth? I most certainly did today (although frankly almost everyday). To fulfill my craving, I took a sweet escape downtown to new Swedish candy hotspot, Sockerbit, in the West Village.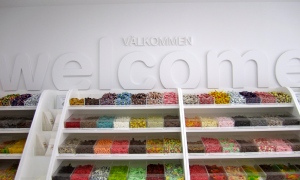 Sockerbit, owned by Stefan Ernberg and his wife Florence Baras, is the chicest and sleekest store that I have seen with an abundance of gummy candy with both youthful and mature flavors and shapes. The shop is full of over 139 kinds of chewy, unique, and delicious candies -including blueberry pie gummies, gummy poems, skelton scary gummies, chocolate covered banana gummies, and a wide variety of every shape and size of licorice- displayed in clear bins that slide upward to make scooping your candy easy.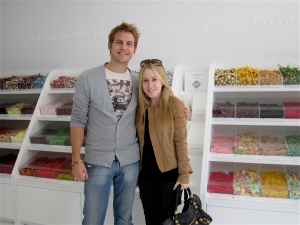 The name of the store comes from its most popular candy called sockerbitar: white marshmellows with rounded corners that look like sugar cubes. Not only is this candy a favorite, but the store is architecturally designed in the shape of the cube. The candy store somewhat reminds me of a jewelry store: tons of bins organized accessibly full of different items, each one colorful, fun, bright and sweet.

Mother's Day is coming up (Sunday May 8, to be exact), and Sockerbit is the perfect place to get your mom a delicious gift. Sockerbit sells adorable $25 buckets of candy wrapped with a bow, in addition to great cupcake wrappers filled with your choice of candy if your budget means a smaller gift (if there is such thing as a fashionable candy arrangement, this gift idea from Sockerbit definitely is).
Owner Stefan is great at educating the novice about his candy and generous with sampling. Admire the fashionably sleek aesthetic of the store, and find a cute gift for your mom, but don't forget to get a bag for yourself before you leave.
Sockerbit, 89 Christopher Street (Seventh Avenue South), (212) 206-8170