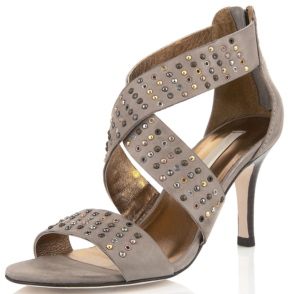 It's time to get out my white jeans, bikinis, wedges, and a lot more, because I'm heading to Palm Beach. The weather in NYC has been beautiful lately, with the occasional Spring shower, but the weather in Palm Beach is even nicer. Every year, I go to Palm Beach to celebrate Passover with my grandparents; however, we still attend the elegant, glamorous, and very fun Easter brunch at our club. I will show you pictures from the brunch early next week.
As I sit here on my bed blogging, I find myself looking over to my floor which is covered with my large suitcase waiting to be packed, and a pile of shoes. One of the shoes that is most capturing my eye this evening is a signature Valentino gold sling-back high heel sandal with a bow that I got on sale last summer at Intermix: one of the best sales of the season. The sandals have become a Spring and Summer basic, but they don't work with my grey items.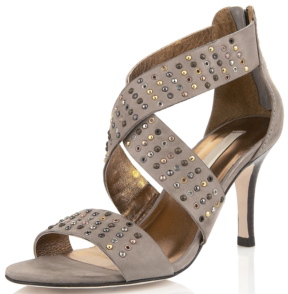 When I was in Washington D.C over the weekend, shopping and browsing at Cusp, I came across an adorable pair of Cynthia Vincent high-heel sandals that will be great for your darker colored outfits. The shoes are called the 'Reid Mixed-Stud Sandals' and are edgy and cool with mixed metal stud embellishment: silver, gold, gunmetal, bronze and rose. I love the multicolored metal stud embellishment because it gives you the option to accessorize the rest of your outfit with more than just one option: mix your metals!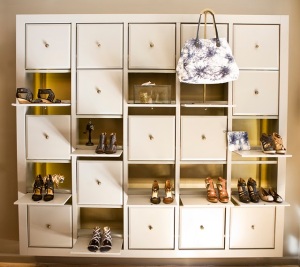 I only recently became a fan of Cynthia Vincent when I saw the NYC flagship store downtown: the store has a tribal vibe, and a cool shoe wall. With this tribal inspiration, wear these sandals with a a relaxed and flowy dress in grey or white. Don't just accessorize with one color, but combine the colors of the studs on the shoes: rose, silver, and gold bangles, silver studs, stacked gold rings – what do you think? Experiment! A fun tote, a tribal pattern scarf, and oversized sunglasses will top it off.
The 'Reid Mixed-Stud Sandals' are available on Cusp.com for $295: check them out. (Photos: Cusp and Cynthia Vincent)