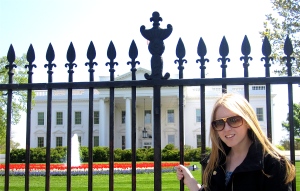 Before I had to catch my train back to NYC yesterday, I made sure to get a picture of myself in front of The White House. Ever since I was a little girl, I've always admired the elegance of the architecture of The White House: it's unbelievable to think that 46 Presidents have lived in it. Visiting The White House is especially nice during the Spring because there are always gorgeous flowers planted in front of the house: I got to see red, white, and purple tulips.
Today was a usual school day, but then I went to New Jersey to spend the first night of Passover with my family. Happy Passover to those of you who observe! Passover is always fun because the holiday is full of tradition. The first night is spent at my cousin's house in New Jersey (everyone, coincidentally, sits in the same seat every year), and the second night is held at my apartment where other relatives come for a delicious dinner made by my mom. I always look forward to the holiday because the food is amazing (more than you could possibly eat), I get to spend time with relatives and friends, and there are always those funny stories from "the olden days" with papa Harry who comes down every year from Florida.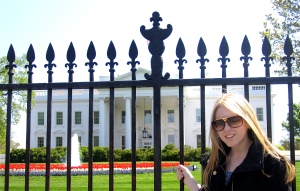 This evening, I wore black leggings with a pink and purple blouse, purple wedges, a black raincoat, and a black tote. It was supposed to rain while I was out, but it luckily didn't start until I pulled up to my building. It's supposed to rain in NYC tomorrow too, so I won't be putting away my raincoat just yet. I don't like when it rains, and I frankly try to avoid it by wearing the best clothing, shoes, and accessories for the weather. April is the month of Spring showers, so carrying an umbrella with you is essential. Forget about the cheap black umbrellas you buy off the streets that stop working after one rain shower: it's time to invest in one fun and chic umbrella for all of those rainy days.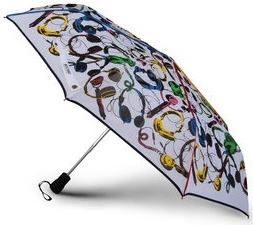 Moschino Cheap and Chic (Moschino's less expensive line) recently came out with a funky and cool umbrella that is perfect for these ongoing Spring showers. The umbrella is solid gray with black pipping, and is covered with multicolored headphones in neon pink, yellow, green, and blue. I love this umbrella because it's not your typical pattern; it's unique. You don't have to match the umbrella with your outfit, but if you want to, the umbrella would give a classic-looking outfit an edge: a lavender dress, black pumps, a periwinkle leather handbag, a black sparkly cuff, crystal earrings, and lavender nail polish.
The Moschino Cheap and Chic umbrella is available on MoschinoBoutique.com for $84.