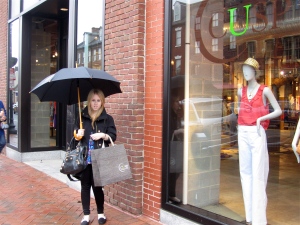 On most Saturdays, I can be found in NYC starting off with my morning capauccino, lunching at Freds at Barneys, browsing stores on the Upper East Side or Soho, and out with friends at night: not this Saturday. Today, I spent my day touring two colleges in D.C with my mom, and then of course making some time for walking around Georgetown. Getting out of NYC for even just a weekend feels so good because my pace is slower, and I am more able to relax: I didn't even get a NY Post!
My day started off touring two colleges, both of which I loved. It rained cats and dogs all day, which leads me to give a suggestion for those of you who are touring schools: if you're touring colleges on a rainy day, pack a disposable rain poncho in your chic handbag so you don't get drenched. After going to the colleges, my mom and I made our way into Georgetown, and first stopped for lunch at a cute vietnamese restaurant where we had a platter of mixed vegetables and rice. Due to the large sweet tooth that both my mom and I have, we immediately walked over to one of my favorite frozen yogurt stores after lunch that I always go to when I'm in D.C: Ice Berry.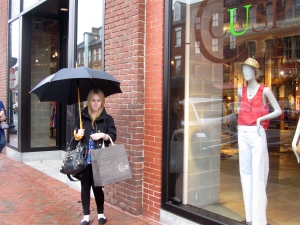 Next came shopping. Georgetown is full of stores you see everywhere, lots of what you can see on the streets in NYC, but the merchandise in the stores is somewhat different. However, one store that is not in NYC but I always stop into when either in Boston or Washington is Cusp. I browsed Cusp for about 45 minutes, more so because I was tired of getting drenched in the rain then actually liking what I saw. I did, though, make a purchase, one that was somewhat ironic due to the weather outside: a raincoat. The raincoat I bought is by a brand I never heard of, G.E.T, and looks quite high-fashion with its shape, high collar, gold buttons, and gold zipper detail. I ended up wearing the jacket out of the store over my favorite multicolored blouse, black leggings, black Stubbs with purple pipping, and black handbag.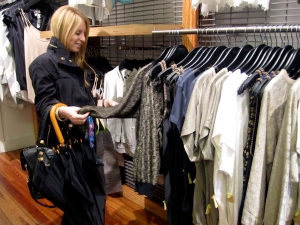 After Cusp, I went into J.Crew because I saw they were having a huge sale. I found a cool pair of beige cargo military-esq pants that are great basics: I got them for $19, a price you just don't hear that often. I also got a neon pink v-neck that will look great with all black or white. My last stop of the day was at Sprinkles Cupcakes, a famous cupcake store from Beverly Hills which is now in D.C, and is opening on the Upper East Side in NYC. Because it's so gross outside, my mom and I decided to bring back some cupcakes from Sprinkles, get a massage, and then order room service in the room. No wild Saturday night for us, but one more relaxing and less on the run.