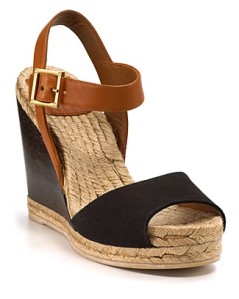 Wow, it was gorgeous today in NYC. The city was as lively as ever where stores, restaurants, Central Park, and the streets were completely packed. I woke up on the earlier side, and decided to take a power walk to the Apple store where I had to pick something up. Since it was quite warm out with a cool breeze, I wore leggings, a multicolored blouse, a tan suede jacket, black booties, and a Louis Vuitton tote. Since I was in close proximity to Bergdorfs, FYI – across the street, I decided to browse through the store, specifically the 5th floor (contemporary level). There wasn't anything that particuarlly caught my eye, although out of all of the labels, Halston Heritage's collection looked the best.
After Bergdorfs, I met my great friend Ruth for lunch at Freds at Barneys where we both had yummy omelets: Al Roker was spotted. On gorgeous days like today, I try to avoid taxis and walk as much as I can, so Ruth and I decided to take a long walk up Madison Avenue to get a cappuccino and cookies at Sant Ambroeus.
As the air got warmer as the day continued, all I wanted to do was get out of my booties and put on a shoe that showed more feet. I was too busy to change, but the shoe I wanted to put on was a wedge that I just bought at Bloomingdales by Tory Burch. Wedges are a must-have for Spring and Summer, a shoe that you most certainly should invest in. I love wedges because they work with different types of clothing, and can work for day and night.
The shoe that I bought from Tory Burch is called the 'Wood Wedge Espadrille Sandal'. I've tried on many wedges, and this wood wedge ended up being the perfect fit for me. The wedge has an earthy yet sophisticated look with its luxurious leather and jute-wrapped wood.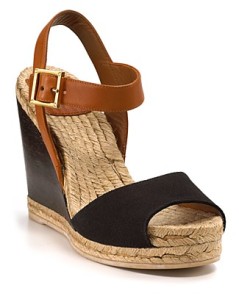 Ideally, I see these wedges with a funky multicolored skirt, preferably in green, a color that was frequently seen on the runways for Spring, with pops of other colors like bright orange. It's not warm enough for a thin shirt just yet, so a black leather jacket will look cool and edgy on top. Accessorize with a great set of gold and orange bangles, green stone earrings, a light brown/orange leather bag to tie in the color from the buckle strap, and black Ray Ban's.
The 'Wood Wedge Espadrille Sandal' is available on Bloomingdales.com for $195. What are you doing on this beautiful Spring day?