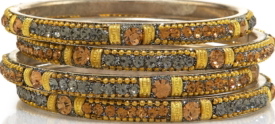 After a fun evening with my friends last night, I attempted to go to sleep, but I simply tossed and turned for hours. I ended up getting a second wind, and decided to watch some old episodes of Sex and the City that I had recently recorded on E!. As I watch the episodes 7 years later from the time the show was on HBO, the story lines are more meaningful now, and Carrie Bradshaw's character is more relatable.
Even though I didn't get much sleep last night, I woke up early this morning and decided to pop in the Sex and the City 2 DVD. I've seen the movie about five times now, but it gets better and better every time. I have so many favorite parts of the film, from Liza Minnelli's "Single Ladies" performance to Carrie's run-in with ex-boyfriend Aidan at the spice market, and many more. What I loved most, though, was when the four friends from NYC went in a back room of a flower shop with some Abu Dhabi women, who when taking off their black veil coverings, actually had the latest couture clothing on underneath.
A few weeks after Sex and the City 2 came out in theaters, I remember having coffee with my mom at NYC coffee hot spot Nespresso, where next to us were two women with black veil coverings. On these women's arms were stunning stone embellished bangles in gorgeous colors, bracelets that I have never seen in the US and you could tell were not from here. I asked the women where they got their bangles, and they said in Abu Dhabi. We started talking about jewelry, clothes, and shoes, and I remember giggling afterwards because it reminded me of my favorite scene in Sex and the City 2.
I recently purchased adorable bangles that are from Chamak by Priya Bio. The bangles somewhat remind me of the bangles the women I sat next to at Nespresso were wearing: the aesthetic, three color combination, and stone embellishment. The bangles that I purchased come in a set of four and are embellished with gray, copper, and golds stones. I love these bangles because they match with everything, and definitely have that sparkle and glamour that I admired from the bracelets the women sitting next to me were fashioning.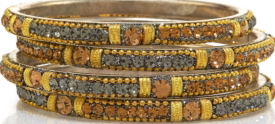 Wear these stone bangles with a floral blouse in black, yellow, and orange, black skinny jeans, black oxford booties, a light brown/camel small shoulder bag, gold earrings with crystal embellishment, a gold and orange cocktail ring, and round shaped sunglasses. Paint your nails in an orange/red shade, and apply nude lipstick to your lips. The bangles are available on Cusp.com for $44.