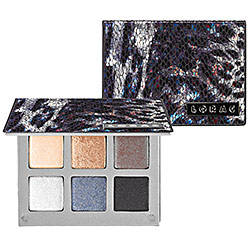 Confession: I am not a fan of 3D movies. Although 3D movies seem to have taken over the film industry, I find them rather annoying; however, it does take you to a place of imagination where creativity can evolve. Despite not liking to watch 3D movies, I'm willing to take a shot at three-dimensional inspired makeup.
Lorac just came out with its Spring collection. I've worn the same light pink blush by Lorac since I was a little girl, and I'm not willing to give it up. I wear a variety of makeup brands due to my love for a selection of products. For example, I love Dior foundation and mascara where my love for lipsticks and eyeshadows belong to MAC; however, I do branch out of my comfort zone, and try new products each season.
My favorite product in Lorac's Spring 2011 collection is the 'Multiplex 3D Eyeshadow Pallet'. This limited edition pallet sparkles and shimmers with its six gorgeous 3D shadows: opalescent gold with pink pearl, amber bronze with gold pearl,red/brown with green pearl, silver with white pearl, royal blue with electric blue pearl, and midnight black with holographic 3D glitter.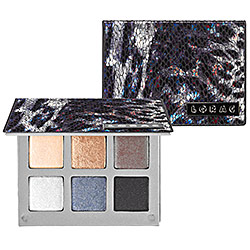 Each color, when applied to your lid, shimmers with a metallic look. I'm all for metallics for day and night because they really make your eyes pop to perfection. To give your eyes an even bolder and intenser look, dipping your eyeshadow brush in a little water will deepen the color pigment. If you want a delicate and soft look, applying the shadows with a dry brush will do the trick.
What I love just as much as the eyeshadows is the case that the shadows come in. The shadows are packaged in a super chic and trendy faux animal skin pallet that is so fun and colorful. When I purchase makeup, the packaging is just as important as the content itself, so I like that the shadows are not only great, but its packaging is cool and funky too.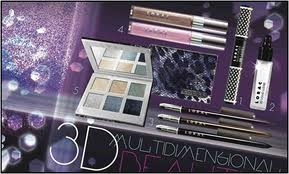 Bring out the shadows on your lids with a cream blazer, black leggings, black sparkly peep-toe booties, a cream hobo handbag with gold hardware, and hanging light grey and charcoal grey crystal earrings for an overall sparkly, edgy, yet elegant look. If you need to wear sunglasses, wear ones that aren't too dark so everyone can admire your fabulous eyes.
The Lorac 3D eyeshadow pallet is available on Sephora.com for $38.