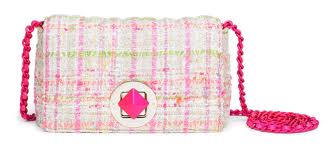 Neon colors are definitely making a fashion statement this Spring. I've always felt that neons have a cooler look than plain colors, possibly because they're so bright that they literally make you glow. I've seen neons used in clothing, shoes, and accessories: neons always make something simple more exciting and fun.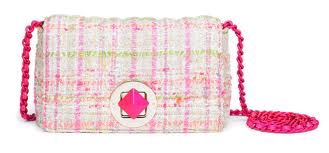 I've come across various pieces of clothing in neon colors that I love: dresses, jackets, skirts, and pants. However, there's something about a neon purse that makes the ultimate accessory when wanting to wear the chicest outfit.
Kate Spade just came out with a handbag that is in neon colors, and will be obsessed over by Chanel lusters and lovers. Kate Spade's new handbag, 'Jardin Tweed Robin' is a modern/hipper and less expensive approach of the Chanel tweed handbags that are stunning, but just way too expensive. I came across this "tweed" while at Bloomingdales in Boston, and this handbag was definitely a hit.
Not only am I obsessed with the colorful tweed pattern (neon green, neon yellow, neon pink, and white), but I particularly love the hot pink turn-lock closure and chain with gold hardware which both noticeably top off this adorable handbag. Since this handbag screams neon, why not go all out with a complete neon ensemble?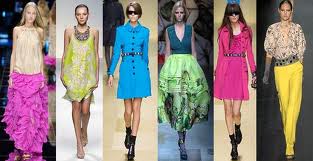 Wear this Kate Spade handbag with a neon pink button-down, black leggings, black pumps with a hot pink sole (Louboutins, sadly, won't work), neon yellow hanging earrings, neon bangles embellished with glamorous crystals, black sunglasses, and neon green or neon pink nail polish to tie off this stunning look.
The Kate Spade 'Jardin Tweed Robin' handbag is available on KateSpade.com for $245.