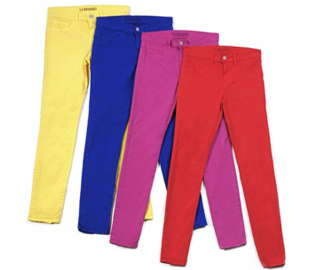 If there's one thing that people aren't afraid of this season, it's color. It's all about being bright, bold, and beautiful. This past Fall and Winter, there was very little color displayed in stores; however, Spring has come, and the stores that once looked drab are looking more fabulous and colorful than ever.
When wearing bright and statement-making colors, you are most certainly coming out of your comfort zone. If you're the girl who only sticks to the basics and darker colors but wants to try those electric brights, start by adding just one bright to each outfit. So many designers and labels have incorporated this bright-colored trend into their Spring collections, whether it's with purses, shoes, clothing, jewelry, or even beauty products.
I've already become obsessed with multiple brights this season, but I want to introduce my first bright-obsession today that I first spotted at Barneys: bright colored J Brand jeans. Are you the girl whose closet is full of jeans in only white, black, and blue? How about a bright and bold color to spice up your wardrobe? It's time to branch away from your old blue jeans and try a bright jean for the ultimate Spring look.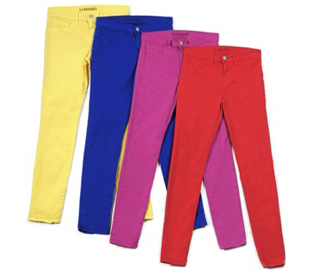 J Brand just came out with adorable and daring mid-rise skinny leg jeans in a variety of colors that are so chic for Spring. These electric and sexy jeans come in four hot colors: bright red, bright royal, bright fuchsia, and bright yellow. The jeans are definitely not your typical colors, but that's what I love: they're unique. My favorite color of the bunch is bright red because they're fierce, fun, and funky.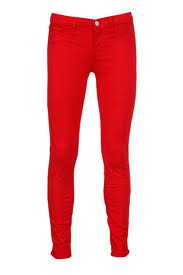 Because the jeans are bold and bright, you don't want to overdue them with the wrong top and accessories. Barneys displayed these jeans with bright tops, but I think it's too much. No matter what color jean you choose, keep the rest of your outfit on the chic yet simpler side. Wear these jeans with a black v-neck, a black leather jacket or boyfriend blazer depending on your preference, black platform wedges, a black crossbody and a long chain necklace. Since the jeans are extremely colorful, make sure not to wear too much makeup so that the outfit doesn't lose its effortlessly chic look. A little eyeliner and clear lipgloss with a tad of sparkle will do the trick.
The J Brand jeans are available in all four colors on Singer22.com for $176.