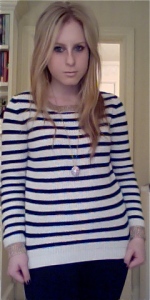 After an intense first day of exams, the last thing I want to do is look at my detailed notes that involve trigonometric functions, the French Revolution, and how to calculate the force of an object. Unfortunately, my weekend will be dedicated to topics such as those, but I'm ready for the challenge. To give myself a mental break before I gear into my study mode, a relaxing night on the town shall do the trick.
I'm heading out to one of my favorite restaurants, Philippe, for some delicious dumplings, Beijing chicken, and other Philippe signature dishes. Since I'm pretty exhausted, I'm not in the mood to get all dressed up in a blouse or cocktail dress: I want to be comfy, relaxed, and chic all at the same time.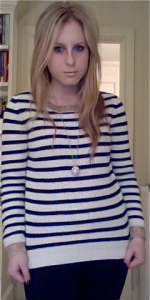 A month ago, I made some great purchases at Topshop, one of which was a navy blue and white striped sweater with sparkly gold pipping on the collar and bottom of the sleeves: perfect for tonight. This is the first time I've worn the sweater, and I love it just as much now as I did when I saw it on the racks at Topshop. To add onto my comfy yet chic look, I'm wearing shiny tight leggings, my BCBG wedges, and my black feux-fur vest.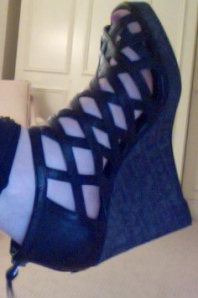 My nails are painted in a deep purple (almost looks black), and my lips are shimmering in MAC Frou lipstick: my favorite. For accessories, I'm wearing a crystal ball necklace hanging off of a long gold chain, my gold snake ring, and vintage silver and gold earrings.
What are you wearing tonight?