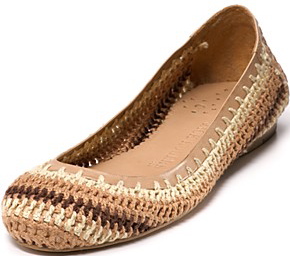 It's almost time to put away your boots, and bring out your flats. I love wearing heels, but there are some occasions when they are just not appropriate. I find myself wearing flats mostly by Stubbs & Wootten, known for their signature slipper in a variety of fabrics such as velvet and needlepoint with symbols/pictures on them (everything from a skull to a flower), and Tory Burch due to comfort and style. New seasons bring new additions, and I'm ready to add a new brand of flats to my closet: Jack Rogers.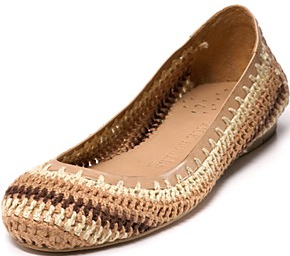 Jack Rogers is one of my favorite brands of sandals. I live in them in the summer and during cruise season, but I miss them when I can't wear them on days like today in NYC. For those of you who love Jack Rogers just as much as I do, you'll be pleased to know that Rogers' flats are just as comfortable and stylish as the sandals.
Jack Rogers just came out with an adorable pair of flats that follows the new hot woven shoe trend. A woven shoe is the shoe to have this Spring. Tons of designers and brands like Joan & David and Vince Camuto have come out with woven flats, but I think the Jack Rogers' ones are the best. The shoe is called the '"Java" Slim Flat', and is Spring-chic with its stitched detail and metallic leather. The flat is in the nude family, so it will definitely become an everyday basic.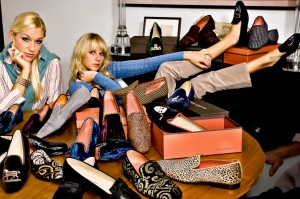 Wear these woven flats with rolled up washed-out blue jeans and a tan oversized jacket. Accessorize with a pop of color, preferably turquoise, and wear a turquoise and tan purse, gold hanging earrings, a turquoise and crystal cocktail ring, and tan sunglasses. For makeup, put on gold and brown eyeshadow, and wear turquoise nail polish (if you're in the mood).
The Jack Rogers' '"Java" Slim Flats' are available on Bloomingdales.com for $198: check them out.