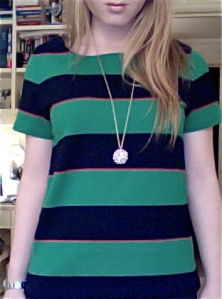 Today was a gorgeous day in NYC. All I wanted to do was go outside, get some fresh air, and take a walk. I wore black leggings, an Ella Moss grey and black top with a long gold necklace hanging down the middle, a black purse with gold studs, a boyfriend blazer, and red and gold oversized sunglasses. My walk led me to lunch at Freds at Barneys where I had a great meal: the desert was the best part: mint-chocolate gelato with a black and white cookie and a foamy ice-cappacino – the ultimate comfort food. "Lunchers" included The City's Olivia Palermo and The Real Housewives of New York City's Ramona Singer.
Going to Barneys when I have lots of studying to do isn't the best idea because I'm tempted to stop on all 8 floors on my way down the escalator: I simply can't resist. I took my SAT today, so I needed a little break. Anyways, I was so happy to see that the Barneys racks were full of colorful Spring pieces: cool floral dresses, loose knits, red jeans, comfy tees, plus more.
As I was browsing the Co-OP floor, I found a great top by A.P.C that is perfect for a Spring day like today: 'Wide Stripe Tee'. The A.P.C tee is so comfortable, and spot on with the stripe trend with its wide navy-blue, green, and red stripes. The tee is in cotton which is a good material for Spring because you won't be sweating in it. I also love the button detail on the right shoulder: so cute.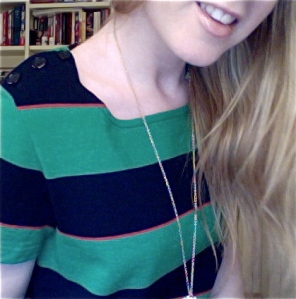 Wear this A.P.C tee with dark blue jeans, black ballet flats, a red oversized purse, red sunglasses, a gold chain necklace with a cute hanging charm, and brighten up your lips with a metallic bronze lipgloss. The 'Wide Stripe Tee' is available on Barneys.com for $135: check it out.