After a wonderful dinner at Italian hot-spot Serefina, a walk home was much needed. When walking many blocks in the cold, having a focal point makes time go by faster. My focal point is store windows on Madison Avenue, and now that the windows are displayed with Spring and Summer pieces, the time and blocks went by quickly. The Upper East Side is full of stores that are the best in the fashion industry: Chanel, Christian Louboutin, Michael Kors, plus so many more. Madison Ave stores never fail to disappoint with their window displays, and as walking home from dinner, a certain few caught my eye.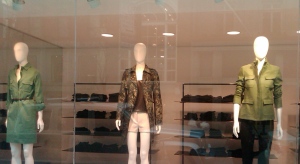 The first store window that I came across was Joseph. Joseph is a brand from the UK, and I used to sit in the store for hours as a little girl, watching my mom and aunt trying on pants, which was what the store was once known for: some might consider that boring, but I always loved a good day of "dress-up". Joseph's windows were in the green family. First, a green dress belted with a thin high-waist belt. Second, beige shorts, a brown silk top, and a green and brown army-printed jacket. Lastly, a green button-down with black trousers: a classic everyday look.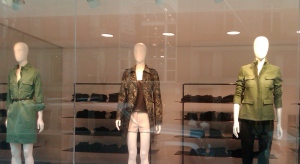 The next store that I came across was Jill Sander. Color, color, and more color! The first mannequin is dressed in a pink button down (noticing the button-down trend?), red pants, and a purple trench coat. The second mannequin is a men's look: a floral blouse and blue pants (a bit out there). The third mannequin is very similar to the first, with the exception of a different style coat-more of a blazer.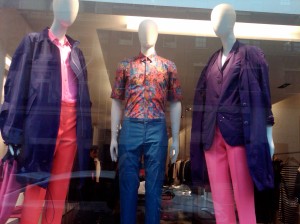 A few blocks later came Missoni, the brand whose patterns and colors fulfill my ideal wardrobe. The windows were clearly aimed for the Summer-wanting customer, mannequins styled in a pink bikini with an oversized sun hat, a jungle-esq dress, and a skirt with a matching top.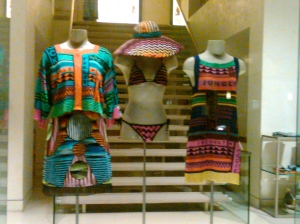 Lastly came Intermix, one of my favorite stores to find great pieces for every season. Intermix has two windows, but one was better then the other. I noticed an on-going trend of black and white solids and patterned clothing with pops of color in accessories. My favorite look is the third mannequin: a black off the shoulder top, a blue skirt, a cheetah scarf, and black gladiators: an easy look for a warm day.
What's your favorite store on Madison Avenue? Have you noticed any trends for Spring 2011? I want to know.